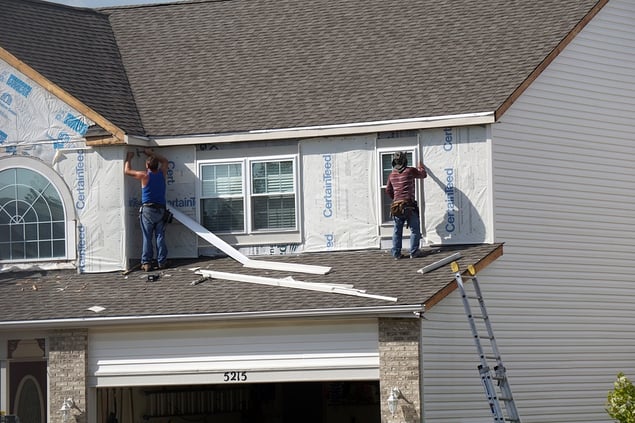 Knowing when it is time to upgrade your siding is easy. Choosing what kind of replacement siding you want is not as simple. The choices available to you are extensive, with each material offering vastly different aesthetics, durability, energy efficiency, and price. Before upgrading or replacing your siding, it is important that you educate yourself on the different available materials, so that you can attain the aesthetics you want within the budget you've laid out. We have put together this guide to help you familiarize yourself with the different types of siding, so you can make the best choice based on your style, needs and budget.
Vinyl Siding
According to the U.S. Census Bureau, vinyl siding is the most popular siding choice in the U.S. today. This is due to the fact that vinyl siding is durable, comes in a range of color options, and it is relatively low cost. There are also a huge variety of profiles of vinyl, including: horizontal or vertical panels, dutch lap, shakes, shingles, beaded, and fish scales or scallops.
Advantages of vinyl siding
Vinyl siding is incredible durable and typically comes with a 30-40 year warranty post-installation
There is a huge array of color options when choosing vinyl siding
It is versatile in its textural options
It is easy to clean with just a power washer and a hose
It is often the most economical option
Disadvantages of vinyl siding
Vinyl siding is not waterproof (only water-resistant)
It can sometimes bend under extreme weather conditions, whether it be hot or cold
Once you choose a color, you cannot change it or repaint it
Hail and tree branches can leave dents and marks in the side of your home
Fiber Cement Siding
Perhaps the second most popular siding option is fiber cement siding. Fiber cement siding is a mixture of wood, sand and cement. It is created to look and feel like natural wood siding, but with greater advantages.
Advantages of fiber cement siding
It has the same look and feel as wood, without the maintenance costs or susceptibility to insects
It comes with a class 1A fire rating
It is not prone to rot or decay and is also resistant to salty air in coastal areas
It is versatile in its finish and texture
Disadvantages of fibre cement siding
It can be 2-3 more costly than vinyl siding
It needs to be repainted every 12-15 years
Color does not go all the way through the product, so if there are any chips or damages to the finish, touch-ups will be necessary
Brick Siding
Brick siding is a popular siding option as it is considered to last forever. There are countless houses and buildings that are over 100 years old built with brick siding, and they are still in good condition. You can opt for regular brick or brick veneer, which is a finished exterior layer of brick that sits on the outside of the house.
Advantages of brick siding
Brick can last over 100 years with not much maintenance required
It is fire resistant
It does not need to be repainted or finished and weathers very well
It is termite proof and durable, meaning home insurance is usually lower for brick siding houses
Disadvantages of brick siding
It is one of the most expensive siding options available
Once you decide to paint the brick, it is almost impossible to return to the natural brick finish
Over long periods of time, mortar joints may deteriorate and may need replacing
Metal Siding
Metal siding comes in a few varieties, with the most popular types being aluminum and steel siding. Metal siding offers a modern aesthetic, and can provide your home with a unique look if installed properly. Aluminum is a good option in coastal areas as it protects your home from the salt air, while steel can be prone to rust but it is resilient to hail.
Advantages of metal siding
Metal does not mold or rot
It does not require much maintenance
The siding will not fade
It is very eco-friendly because each panel is precisely cut, offering little waste of material
Metal siding is fire resistant (good if you live in dry areas or areas with many lightning storms)
Disadvantages of metal siding
If not installed properly, it can lead to rust
Aluminum siding is a soft metal so can be dented easily
Steel siding is heavy and takes longer to install, making it a more expensive option
Metal siding will easily scratch and can rust quickly if not resealed and repainted
Wood Siding
Wood siding is another popular siding option due to its natural and timeless look. There is a wide variety of wood species to choose from, including: pine, fir, cedar, and redwood.
Advantages of wood siding
It is lightweight, making installation time quicker
Many agree that it is the eco-friendliest siding on the market
Wood siding can be stained and painted in custom colors
It has a high R-Value, and is very energy efficient
Disadvantages of wood siding
While it can be stained limitless colour, in doing so, it must be consistently maintained
Wood can be easily damaged over time by insects or water
It can be costly to maintain – required to be stained every 2-3 years and repainted every 4-5 years
It is not fire resistant, so it is not ideal for dry climate areas
With so many different siding options out there, it is important you do as much research as possible and weigh up the options of cost, durability, energy efficiency, and versatility before making a choice. We hope this guide has been educational in helping you decide on the best siding option for your home.