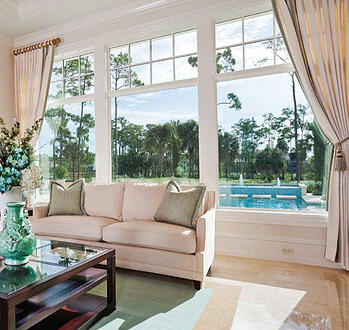 Many homeowners as the experts at Windows on Washington which type of custom replacement window would be best for their home - wood or fiberglass? Our response is always dependent on the answers to some key questions. Both window materialshave benefits, but the homeowner must ultimately weigh the pros and cons to make the correct materials decision for their home. We will compare wood and fiberglass replacement windows over severals categories to help highlight which option will be best for you. For the purposes of this discussion, we will assume that the comparison is between two premium products in both materials.

Historic District -
If your home resides in a historic district, you may have no choice in the material that you choose for your replacement windows. Most districts require that residents use wood materials for window replacement. To be sure, check with your local board for specific guidelines.
Aesthetics -
Homeowners have to decide on the look they want to achieve with the new window replacements. If you love wood and want that complete organic feel to your home, both inside and out, then wood replacement windows are the way to go. Although fiberglass replacement windows are aesthetically made to look like wood, they will not have that exact look and feel of wood. So if keeping the original character of the home is important to you, strongly consider wood replacement windows.
Material Quality -
Fiberglass replacement windows are stronger than wood replacement windows. The strength of the fiberglass replacement window comes from the frame and glass of the window acting as one. When temperatures cause expansion and contraction of the window, the fiberglass window is not subject to warping like a wooden window. This warping will eventually cause the wooden replacement window to suffer operational issues, such as not easily opening and closing or not completely sealing when closed.
Cost -
Depending on the brand, both the fiberglass and wood replacement windows tend to cost about the same for the initial investment into the window. However, the wooden replacement window ultimately costs more (in money and in time) because it will need to be painted and maintained throughout it's lifetime. Also, many of the fiberglass windows have a lifetime warranty which protects the homeowner from additional repair expenses in the future. However, most if not all wood windows do not have long term warranties as many experts project their lifetime is only about 12-15 years.
Energy Efficiency -
Both fiberglass and wood windows have good insulative properties. However, because the fiberglass frame is hollow, an insulative foam can be added which increases the energy efficiency of the window unit. As the wood windows degrade, through expansion and contraction, the energy efficiency will also decline because the seal of the windows will no longer be air-tight. For an accurate comparison, make sure to check the efficiency values of any replacements you are considering.
A Compromise -
There is a way to get the look and feel of wood with all of the benefits and lack of maintenance of fiberglass. Many manufacturers now offer fiberglass windows with wooden interior trim. Homeowners are often pleasantly surprised by the high quality look of a well crafted fiberglass window with this option.
When determining whether to go with a wood or fiberglass replacement window, you would be well served by visiting with a straightforward contractor that installs both. Windows on Washington carries both wood and fiberglass window lines and can give you a factual breakdown on the two windows features and benefits. After researching the options and making that side by side comparison, we hope you will be well equipped to make the best decision for your home.