Bay and Bow Windows
Bay and Bow windows are excellent for inviting natural light into your home and offering expansive, clear views.
However, when choosing the perfect fit for your home, it's crucial to note key differences between Bay and Bow windows in terms of ventilation options, size variations, and total cost.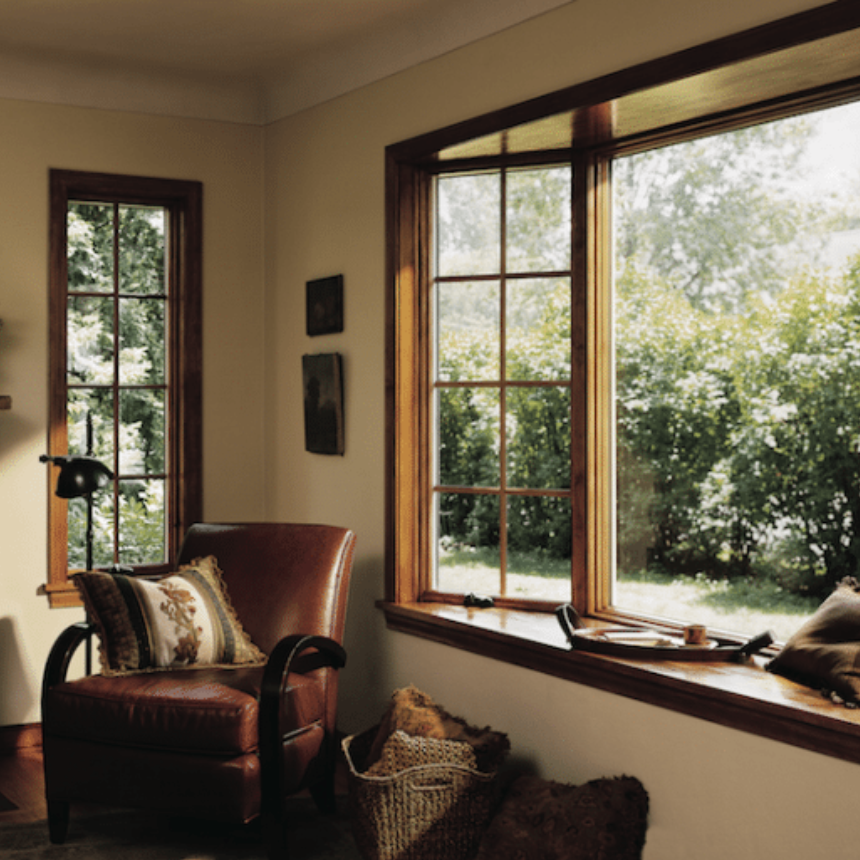 We Created a Better Way to Do Business
Simply put — we believe that improving your home should be enjoyable. That is why we spent years designing our consultations, installations, and client care experiences to provide every client with a stress-free home improvement experience. Founded in 2005, Windows on Washington has become one of the area's most respected home improvement companies because we make our clients' homes more beautiful, comfortable, and energy efficient.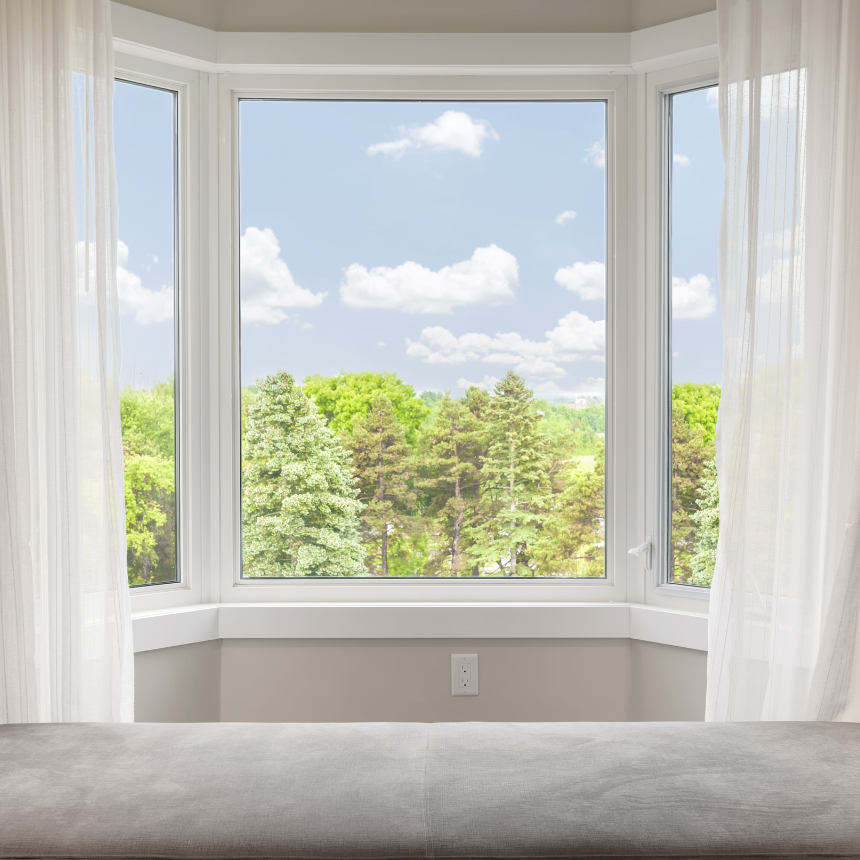 Bay Windows
Bay windows project from the home's exterior wall, providing interiors with more natural light than a standard window. They usually comprise three elements: a large, stationary window in the center, flanked by two identical, operable windows. The central pane aligns parallel to the exterior wall, with the side windows angled outward to join it. Traditionally, the side windows can be opened, providing ventilation, while the center window remains fixed.
While the Bay window traditionally has an inoperable, middle window, the two windows that flank the main window are typically operable, providing varying degrees of ventilation based on the specific style of the windows selected.

Bay windows are an optimal choice for smaller openings when the aim is to enhance natural light, as compared to Bow windows. However, for larger openings, the central window of a Bay setup may need to be oversized to prevent it from protruding excessively from the home's exterior.

The projection of a Bay window is available with 10, 15, 30, and 45 degree angles from the center window to the two flanking windows. For this reason, given a specific size of an existing window opening, the homeowner has flexibility in the size and depth of the window.

Bay windows offer homeowners a versatile interior space that can be utilized in various ways. This area can be transformed into a charming display nook for plants, a cozy spot for pets to enjoy the sunlight, or a creative corner for showcasing artwork or collectibles.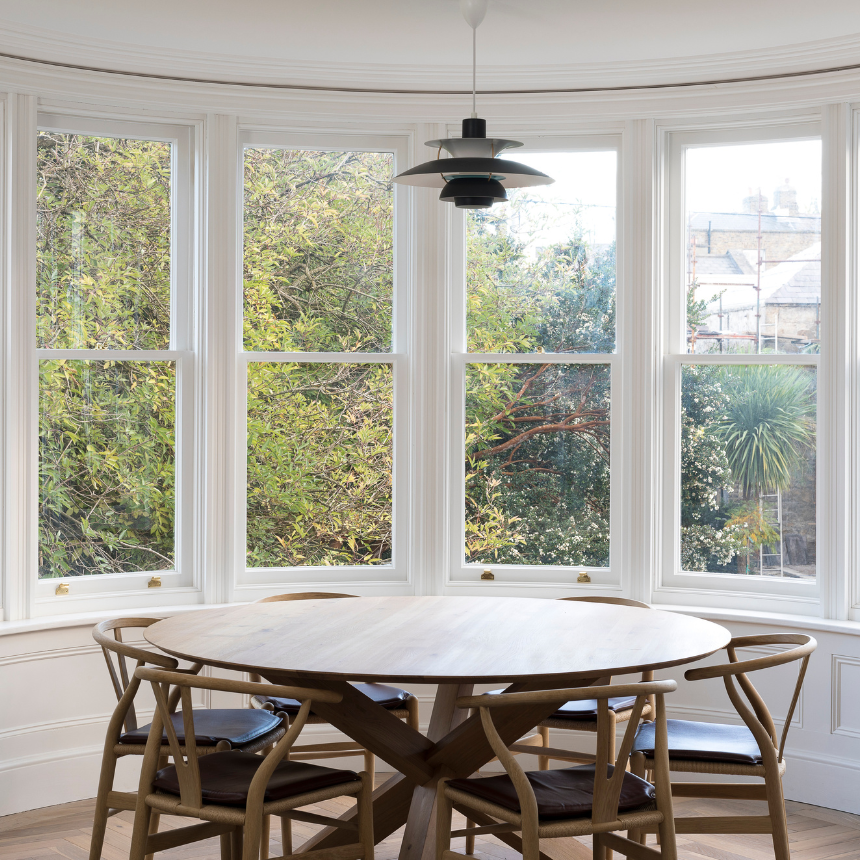 Bow Windows
Like Bay windows, Bow windows extend out beyond the home's exterior wall and let in much more light than a basic window. Unlike Bay windows, Bow windows are made of several smaller windows that come together to form a large arc. These smaller windows can be both operable or inoperable, depending on window style selected.
Bow windows can provide great ventilation, depending on the style of window selected. Double hung and casement windows are most commonly used. Most Bow windows are configured with a combination of venting and non-venting windows.

The number of smaller windows needed to create the Bow can be adjusted to accommodate larger window openings. In some cases of larger window openings, the gentle arc of the window creates a shelf on the interior of the Bow, creating additional floor or shelf space, depending on the height of the window.

Bow windows are custom-made with sets of matching windows. This means that you can choose the number of windows (known as lites), the size of the windows, the depth of the shelf and the angles of the individual windows.

Bow windows offer a more gentle projection than Bay windows, which creates an elegant exterior design feature.
Everyone at WoW went above and beyond, and exceeded my already high expectations. Our house is now warmer, quieter, and looks so much better!
Simply put, it was one of the best contracting / house project experiences we've had.
Why Do We Prefer Okna Windows?
Okna Windows has built an industry reputation by combining state of the art equipment, advanced technologies, and dedicated craftsmanship.We know Okna Windows are built to last and will keep your home looking beautiful and your family comfortable for years to come.
For replacement windows, air infiltration (or, Air Leakage) refers to the amount of outside air that can sneak in through tiny gaps or openings in the newly installed windows. Minimizing Air Infiltration helps make your windows more energy efficient by keeping the air you pay to heat or cool… In. Plus, unlike solar coatings, tight windows improve your energy efficiency 24 hours a day! One of the main reasons we primarily recommend Okna windows is that they were specifically designed to be air tight. The Okna EnviroStar Double Hung has an Air Infiltration of .01! That's the best rating on the market!

Design pressure refers to the amount of external pressure that windows are designed to withstand without compromising their structural integrity. It is a measure of the window's ability to resist forces such as wind, water, and other environmental factors. Okna Windows have some of the highest DP ratings available for residential replacement windows.

Okna Windows are renowned for their exceptional appearance. Crafted with meticulous attention to detail, these windows exude elegance and style. Their sleek profiles and clean lines give them a timeless appeal that can enhance the aesthetic of any home. Okna offers a wide range of design options, allowing homeowners to choose from various styles, finishes, and colors to match their unique preferences and architectural requirements. The quality craftsmanship and precision manufacturing of Okna Windows result in a flawless finish that exudes sophistication.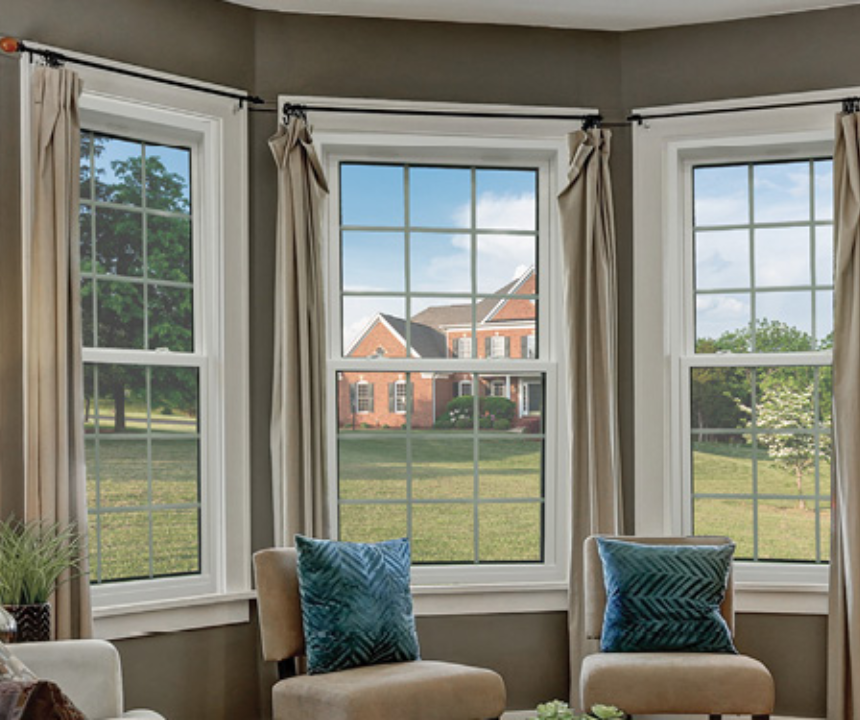 What Okna Window Is Right for My Home?
Okna has several options to fit your design needs and budget. Here are a few of our favorites.
Our Reviews Speak
For Themselves
After nearly 2 decades in business, client satisfaction is still what drives us to provide the highest level of quality in our service and in our products. We are proud of our reputation and do everything in our power to continue to exceed our clients' expectations.
Everyone at WoW went above and beyond, and exceeded my already high expectations. Our house is now warmer, quieter, and looks so much better!
Simply put, it was one of the best contracting / house project experiences we've had.
You Are 3 Easy Steps Away From Project Success!
Schedule a No-Pressure Consultation

One of our experts will discuss your project either in your home or virtually

Discuss Your Project

Our expert will learn about your needs, ask some questions, and suggest the best products and service for your specific project and budget

Choose WoW and Relax!

If you choose to work with us, you can rest assured we will take care of every detail and keep you informed every step of the way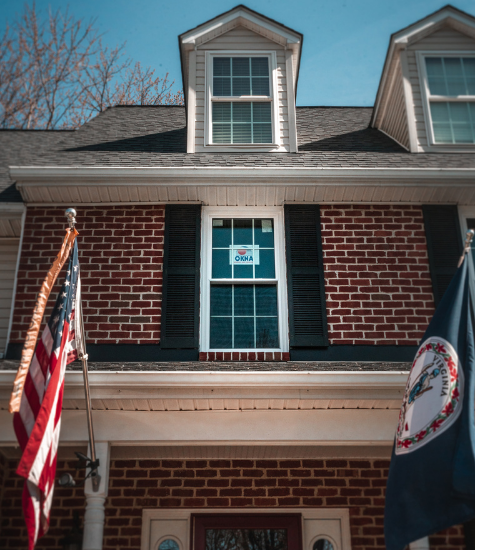 See What Our Clients Have to Say