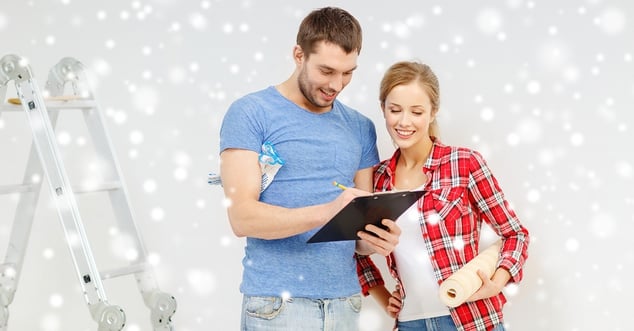 A typical Winter's day might involve being snuggled up in comfy clothes or a blanket and sipping hot chocolate or mulled wine. While these are great ways to pass the time, why not try something that is guaranteed to chase the winter blues away? We are talking about a home improvement projects that will make your home even more comfortable and energy efficient.
Window Treatments
We are all worried about the increased utility bills that await us during the colder weather. Instead of accepting larger heating bills, perhaps you should try something different this year: take a look at your windows and try to find out where outside air is coming in from. With the weather cooling down it should be easy to feel and identify any air leakage, so this should be an easy task. Or if you are looking for a fool-proof way to air seal your home, start with these simple tips.
If the project is too big to attempt on your own call a window repair specialist or even a window installer and seal the places that are leaking air – and money.
Insulation
This may not be the most glamorous home improvement project as it doesn't change the appearance of your home, but it can have a great impact on the comfort of your home this Winter. Studies show that adding insulation or upgrading existing can reduce your heating bill by as much as 20%. Just imagine how many glamorous things you could do or buy with those extra funds.
Painting
While it is true that Fall and Spring are typically the seasons where most people choose to have their walls painted, you can also do it during Winter. If you use a water-based non-toxic paint, you won't have to open the window in order to let the fumes out. Even more, if you schedule the project during cold but dry weather, the results will be better and will last longer. Last, but not least, there's nothing better than new, vibrant walls to brighten a dreary Winter's day.
Door Refurbishing or Replacement
Did you know that changing the appearance of your doors can have the same "wow" effect as expensive decorations? Furthermore, they are one of the home improvement projects with the highest return on investment. Studies suggest that replacement doors return approximately 101.8 per cent of their initial investment upon resale. They literally pay for themselves.
Try some new colors, change the knobs or replace the doors altogether. Besides a new appearance, you will also get better soundproofing and insulation.
Re-do Your Kitchen
Winter is definitely the season when we spend a lot of time in the kitchen. Whether you cook, bake or simply have your friends over for hot chocolate or a glass of red wine, the kitchen becomes the heart of the home during Winter, so why not make it a good-looking one? Irrespective of your budget, you can make some changes that will impact your daily mood. Even something as simple and affordable as changing the knobs of your kitchen cabinets can improve the aspect greatly. If you are feeling adventurous, you can go even further: refurbish your cabinets or replace them altogether, change your appliances and even add a new kitchen island (space-permitting, of course).