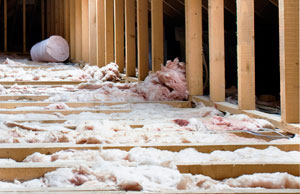 Winter is just weeks away, and the cold weather is about to arrive on our doorsteps, looking for ways to sneak into our homes.
As the winter chill sets in, most homeowners want a solid barrier from the outside cold. But most turn to additional heating, either through fireplaces or wall heaters. Not surprisingly, most American homeowners see their energy costs spike in Winter.
It is not helped by thermal exchange, the process whereby heat escapes from your home through windows, cracks and unseen cavities, replaced by cold air from outside.
But the best way to keep your house warm and to regulate its internal temperature is to prevent the cold from entering in the first place.
This is where insulation comes in.
Keep The House Warm In Winter And Cool In Summer
There is a stack of science out there about heat transfer and thermal exchange, but all you really need to know is this: in winter, heat escapes your home. And in summer, it tries to return. Insulation regulates the temperature of your home regardless of the weather, offering you and your family a comfortable living environment all year round.
It does this by trapping the warm air inside your home. It also acts as a barrier to the cold air trying to enter. With correctly installed insulation, you will find your home less reliant on heaters and fireplaces to maintain warmth and comfort throughout winter.
Improve The Durability Of Your Home
Insulation also helps air seal your home, which reduces humidity and moisture entering the house. It prevents the nasty mold build up that cause the structural elements of your house to warp and rot.
Things You Need To Know About Insulation
There are four standard types of insulation used in residential buildings, each of which can play a major part in keeping your home warm this winter and reducing your energy bills:
Blanket Insulation

Filled with mineral fibers, including rockwool and fiberglass

Polyurethane And Polyisocyanurate Foam Insulation

Sprayed into the crevices and cavities of a home by a professional installer

Loose Fill Insulation

Consisting of cellulose, rockwool and/or fiberglass, contained in pellets or fibers and installed with pneumatic tools

Rigid Insulation

Typically packaged in boards or pipe fittings and is typically used to insulate wall sheaths and foundations
Free Insulation
Windows on Washington is offering a free insulation upgrade to homeowners who purchase new windows, roofing or siding before the end of the year. Click here to find out more about our free insulation upgrades.