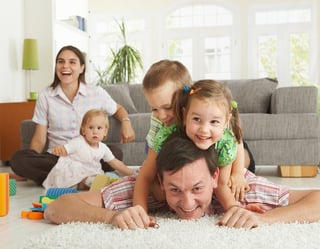 As the famous movie quote goes, "There's no place like home." For many of us, our homes are our greatest asset. But they are also home to our greatest memories, where we spend time with our loved ones and build our lives.
That is why it is only natural that over time, homeowners should want to make gradual improvements to their homes. Remodelling has financial and lifestyle benefits that can last for years. Though one of the biggest barriers to people attempting these important home improvement projects is the cost.
Statistics from Remodelling Magazine outline how much on average typical Americans will spend on home improvement projects.
However, looking purely at the cost of home improvements is looking at only half of the equation. When considering a home improvement project, you should also think about how certain upgrades increase the value of your home, offsetting much or most of the initial cost.
A recent report from the National Association of Realtors (NAR) revealed the home improvement projects that delivered the best return on investment (ROI).
It showed that new roofing and new flooring practically pay for themselves, with a 105% and 100% ROI respectively. But a whole range of interior and exterior projects are proven to deliver significant financial returns:
Insulation upgrades

recovered 95% of their total cost

New Garage Doors

delivered a 87% in ROI

New Vinyl Siding

delivered 83% ROI

New vinyl windows

delivered 80% ROI
These figures show that much of the initial outlay is recouped in the increased value of your home.
Increased quality of life
While improving the financial value of your home is great if you are thinking about reselling, what if you have no plans to put your house on the market? The good news is that research also shows that remodelling has a positive impact on homeowners' wellbeing. Interestingly, the NAR report found that people who complete home improvement projects were happier in their homes. Survey results showed that 64% of homeowners experienced increased enjoyment in their home after completing a remodelling project. As for their main motives, 38% of homeowners said they wanted to upgrade worn-out surfaces, finishes and materials, while 17% wanted to add features and improve liveability.
"Realtors know that certain home upgrades and remodels can be beneficial to get more buyer eyes on a property, potentially bring in more offers or gain more equity from a home," said NAR President Tom Salomone. "But remodelling projects are just as valuable to homeowners who simply want to get more joy out of their dwellings."
Find out more
If you've been thinking about a home improvement project, get in touch with Windows on Washington for a free in-home estimate. Our team will be able to offer advice on a range of home improvement projects that will suit your budget, increase the value of your home and improve the comfort and lifestyle of your family.
Inquire about our Spring offer, 10% off your home improvement project here.
And learn more with this free ebook.