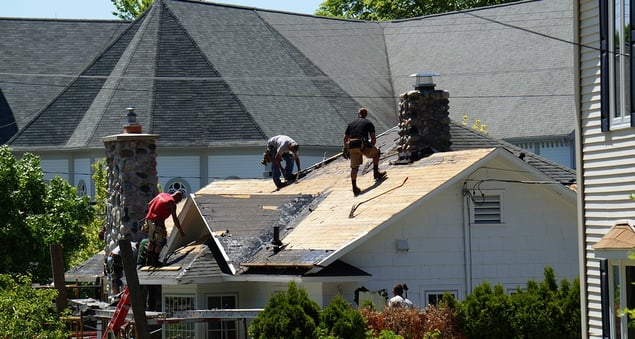 Replacing the roof of your home is a big project for any homeowner. If your roof is damaged or aging, repairing it might be enough to get you through the short term, but to preserve the foundations of the roof, you may ultimately need to replace it. If it is time for you to replace your roof - do not fear.Replacing your roof is actually a very valuable investment in your home. Not only can it improve the energy efficiency of your house, it can also increase the value of your home if and when you decide to sell. As your investment to replace your roof can be quite large, it is vital you find a professional and experienced roofing contractor to do the job properly. It is also important to find the right material. The purpose of this article is to help you choose the right replacement roof for your home in Maryland, to ensure your new roof serves you well now, and into the future.
How do I know it is time to replace my roof?
Depending on the type of roof you currently have, there are various signs you are in need of a roof replacement. Some tell-tale signs include:
It has missing or broken shingles
The shingles are bare, curling, or buckling
The roof is very old or past warranty
There are many broken tiles
It has damaged flashing
There are cracks in the roof that leak water or daylight into your home
Some people may decide to reroof instead of merely replacing a roof, due to the fact it does not cost as much. Generally, however, roof replacements are the best and longer lasting option. There is no point paying good money to reroof, to find out in a few years that you need to replace your roof anyway.
What roof replacement materials are available?
Replacement roofing comes in a variety of materials including tile, slate, concrete, cedar, metal, clay, asphalt, plastic polymer and metal. When choosing what kind of roof replacement material you would like to use, there are a few important factors to consider, such as: lifespan, weight, cost and what kind of insulation it offers. Furthermore, because you live in the Maryland area, you also need to take into consideration the climate and weather patterns.
The best material for the Maryland area
Maryland has a wide range of climates, mostly due to local changes in elevation and its proximity to water. Because of its location near the Atlantic Coast, Maryland is also vulnerable to hurricanes. Maryland averages around 30–40 days of thunderstorms a year, and around six tornadoes every year.
As the climate of Maryland can be unpredictable, it is important you choose the right roofing material that will not only stand the test of time, but the test of mother nature as well. For areas such as Maryland, which is often wet and unstable, metal roofing is a sound option. You can choose from a range of metal styles, while knowing that your roofing material will not be affected by the moisture and humidity often present in Maryland. Metal is also windproof and very durable, ensuring the structure of your roof stays strong for many years.
Asphalt fiberglass shingles is another versatile and popular roofing choices for those living in the Maryland area. Many people enjoy this material because of its versatility – asphalt fiberglass shingles can emulate wood shakes, tile and slate. It also comes in a variety of colors.
If color choices are important to you, concrete tiles might also be a good option for you. However, you will need to consider that concrete tile is much heavier than clay tiles or wood shingles, so it is important to determine if your roof can hold the weight prior to installing it. Too much weight can damage your roofing frame if it was not built to sustain heavy weights.
Other things to consider before choosing your replacement roof
Before you choose the right replacement roof for your home in Maryland, ask yourself the following questions:
How much are you willing to invest? Roofing costs greatly vary, so having an idea of price can help you make your decision.
What kind of style are you after? Do you want to be able to personalize the look of your roof?
Are you planning on selling your home any time soon? Some roofing materials last longer than others, so if this home will be your permanent residence for some time, it is worth choosing a durable material that will last you years to come.