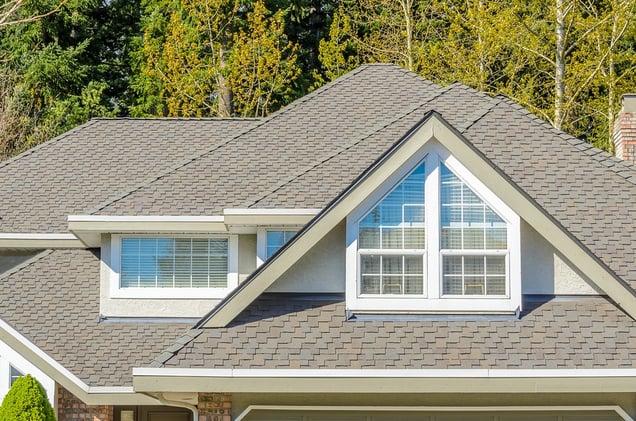 If you live in Maryland and are thinking about replacing or upgrading your roof this Fall, you have come to the right place. Replacing your roof is a big project, but one that will ultimately improve the functionality, style and value of your home. In this article, we will provide you with everything you need to know about replacing your roof ­– from knowing when it is time to replace a roof, to looking at what roof is most appropriate for your house and climate, to cost, and finding the right contractor for the job.
Is it time to replace your roof?
Here are a few tell-tale signs it is time to replace your roof:
missing or broken shingles
shingles that are bare, curling or buckling
a roof that is old or out of warranty
many broken tiles
damaged flashing
cracks in the roof that leak water or sunlight into your house
There is the option of re-roofing instead of replacing your roof, however you may find that a complete roof replacement is a more cost-effective option in the long run. There is no point paying money to re-roof, to find in a few years you need to replace the roof anyway.
Choosing your roofing materials
When choosing a new roof, there are a variety of factors to consider such as material, style, color and investment. Different materials offer different benefits such as ENERGY STAR rating, aesthetic appeal, cost and life-span. Before choosing a material, consider these questions:
How long will my roof last?
Is it suitable for the climate of Maryland?
Is the material the right weight for my home's roof framing?
Is the roof properly ventilated?
Does it have enough slope?
Will it work with the style of my home?
Is the roof permissible by the local building codes and/or HOA guidelines?
How much will my new roof cost?
What are the terms and length of the warranty with my new roof?
A quality, experienced roofing contractor will be able to answer your questions and provide you with additional information that you need to consider before choosing the right roof replacement for your home.
What roofing materials are available?
When replacing the roof of your house, there are a variety of materials available to you. Some of the most common roofing materials include: tile, slate, concrete, cedar, metal, clay, asphalt, plastic polymer and metal. When choosing your material, consider the following factors: lifespan, weight, cost and the kind of insulation it offers. And, if you live in the Maryland area, it is important to think about the climate and weather patterns and how this might make a difference to your choice.
What is the best roofing material for homes in Maryland?
The Maryland area has a wide range of climates. Most importantly to consider is the fact that due to its location near the Atlantic Coast, Maryland can be vulnerable to hurricanes. Maryland also has around 30-40 days with thunderstorms every year (many severe,) and about six tornadoes on average.
Metal
Because the climate of Maryland is often unpredictable, the most important thing when choosing a roofing material is to ensure it can not only stand the test of time, but the force of nature as well. As Maryland weather is often wet and unstable, metal roofing is always a good option. Metal comes in a range of styles so you can customize it to your home, but most significantly it will not be affected by the moisture and humidity in Maryland. Metal is also very resistant to wind and wild weather, so you can rest easy knowing the structure of your roof will stay strong for years to come.
Observed life span: 30 to 50 years
Asphalt fiberglass shingles
If you are not a fan of metal roofing, asphalt fiberglass shingles is another sound choice for houses in the Maryland area. Most homeowners like this roofing material due to its versatility; asphalt fiberglass shingles can take the appearance of wood shakes, tile and slate. It likewise comes in many different colors.
Observed life span: 15 to 30 years 

Concrete
If you would like even more choices when it comes to the color of your roof, you might like the option of concrete tiles. However, concrete tiles are significantly heavier than clay or wood shingles, so it is vital you determine, whether, or not your roof can hold the weight before you install it. If the roofing material is too heavy for the roofing frame, it can cause significant damage, resulting in a more expensive and longer roof replacement process.
Observed life span: 30 to 50+ years
How much does a roof replacement cost in Maryland?
the size of your roof
the pitch of your roof
how it is installed
the materials used
the number of layers needed
code requirements for your roof
if you have any skylights, chimneys, plumbing pipes etc. that need to be worked around during installation
Choosing the right roofing contractor
There are many roofing contractors in Maryland so it is important that you know how to choose the right one. The most important thing to remember is that getting the right roof is not about getting the cheapest roof. In terms of roofing replacements, you would think that the general rule is that the more it costs, the more likely it is that you will receive higher quality materials and amore experienced and professional the roofing contractor. However, this is not always the case, which is why it is important to get quotes from 3-4 contractors before deciding.
Roofing contractor checklist
We have put together a checklist to ensure you find the perfect roofing contractor for the job. It is important to pre-qualify roofing contractors to make sure the job gets done right the first time. Doing your research up front will save you hours of potential distress and perhaps thousands of dollars in the long run.
Things to look for in a roofing contractor include:
Make sure they have a permanent place of business, including a telephone number tax ID number and business license.
Ask to see their proof of insurance, including liability coverage and workers' compensation certificates.
Ensure they have a proven track record, references and a list of past projects.
Request a written proposal with descriptions of the work and detailed specifications.
Ask the contractor to explain the project supervision, quality control procedures and estimated project completion time.
Check with Better Business Bureau for possible complaints against the contractor.
Double check that contract and roofing warranties are offered for both labor and materials.
There you have it, a complete guide to replacing your roof in Maryland. Now that you have all the information, we hope you find the process of replacing your roof as easy and stress-free as possible.