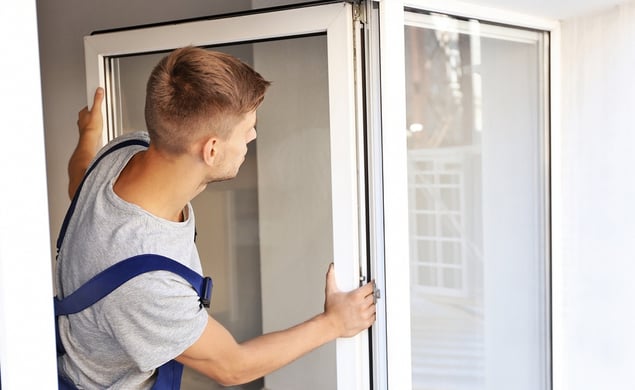 Replacing the windows of your home should be a simple and stress-free task. The fact of the matter is; this is rarely the case. From finding the right home improvement contractor to do the job, to knowing whether you need double or triple pane glass, to understanding your options when it comes to style and materials – it is clear that replacing your windows can be an overwhelming process. However, it does not have to be. The purpose of this article is to provide you with the information you need to know about replacing your windows so that when the time comes, the entire process will be a breeze and you will wonder why your friends made it sound so stressful!
The Benefits of Replacement Windows
Before we get into the details of replacing your windows, we would like to take a moment to look at the benefits of replacement windows. There are many benefits to replacing your windows, and one of them is achieving the aesthetic look you want for your home. Modern window finishings are very versatile and can be adapted to suit any style and taste, and window frames come in a large range of colors and finishes. Another benefit of replacing your windows is that they help to air seal your home. Air leakage is one of the largest impacting factors when it comes to the energy efficiency and utility expenses of your home. Replacing your windows will help ensure gaps will not suddenly appear between the window and frame as the seasons go by. Lastly, replacing your windows can offer a significant return on investment (ROI). A recent report from the National Association of Realtors revealed the improvement projects with the best ROI. When it came to new vinyl windows, this project delivered an 80% ROI. So, you can see that much of the initial outlay for replacing your windows is regained in the increased value of your home.
The Types of Window Styles Available
When it comes to replacing your windows, there are many things to consider, such as the type of window styles available to you. Double hung and single hung are two of the most common and popular window styles. The main difference between the two styles is how the window sections move. With single hung windows, the lower sash moves up and down while the upper sash remains still. In double hung windows, both the upper and lower sash can be lowered and raised. Bay and bow windows are another popular window style and are a good choice for homeowners who want their windows to project out of the home. Not only are bay and bow windows stylish, but they also add extra floor space. Sliding windows are also a common window style and they are quite similar to sliding glass doors. Sliding windows can make the walls of your home appear taller while still providing the same amount of ventilation that a double or single hung window will provide.
The Types of Window Frames
Homeowners have a wide range of options to choose from when it comes to types of window frames. Vinyl window frames are the most commonly used replacement window frame, mostly because they offer the highest energy efficiency and stylistic options. Vinyl window frames never require painting or recoating, and are easy to clean. Many homeowners also choose a fiberglass window frame, as fiberglass replacement windows have the same look and feel of wood without the maintenance that natural wood windows require. However, wood still remains a popular option for window replacements. Wood is beautiful and warm, and has a great organic look and feel. There are also many aesthetic options that allow you to customize your replacement windows to fit the style of your home. However, wood remains an expensive option and can require more maintenance.
The Most Energy Efficient Window Replacements
Not many homeowners know this, but decaying windows can let up to 40% of the heat in your home escape. Not only does this lead to less home comfort but it also increases your heating and cooling bills. When it comes to window replacements, energy efficiency should be one of your main concerns. The energy efficiency of windows is measured by the U-factor. This factor can range from 0.15 to 0.30 and, the lower the number, the more heat your windows will retain. Ideally, you should look for a U-factor that is no higher than 0.26, especially if you live in an area that is prone to extreme weather. Glass panes filled with argon gas are one of the most energy efficient options on the market. Placed between the panes of glass, the gas adds extra insulation to your windows. It's a colorless, non-toxic, natural and inert gas that is safe for you and your family. Foam filled windows are another energy efficient option. By filling the frames and sashes of your windows with foam, you are reducing their thermal conduction and increasing their efficiency.
Finding a Good Replacement Window Contractor
Finding a good replacement window contractor can certainly make the whole process of replacing your windows a lot simpler and stress-free. Yet it is not always easy to find the perfect fit. Below are a few tips we can offer to help you find the right replacement window contractor. Firstly, it is important you know what you need. Some window replacement contractors only specialize in a single type of window, so if you know what you need ahead of time, you will save yourself a lot of time. Also, not all contractors will admit to only being experts in one or two types of windows, so that is why getting references is our next tip. Unless you are choosing a contractor that has done work for your friends and family before, you should never hire one without asking for references. Websites like Angie's List or Houzz are great places to read up on how contractors have dealt with past projects and see reviews from other customers. Our next tip is to make sure your contractor is licensed, so before you hire one, ask to see their papers. And, with their licensing number, you can check to see if any complaints have been filed against them.
How Much You Should Pay for Quality Window Replacements
Knowing how much to pay for a quality window replacement can be tricky. For many homeowners when it comes to home improvements, the temptation for most is to save money and cut costs. When it comes to choosing a quality replacement window, it is important to not consider the price alone. Often, you need to go beyond the price tag to make sure you are not settling for an inferior product (and a potentially ongoing financial stress). Things you want to be looking out for include the quality of material (durability, quality, reliability) its reputation and warranty, pricing and estimates and the installation price. So, how much should you pay? As we mentioned, there are a variety of factors that influence the cost of window replacements and each project is unique, so it's always best to speak to a professional for expert advice and estimates.
We hope this ultimate guide for replacing your windows has helped make the task a little less daunting and stressful.