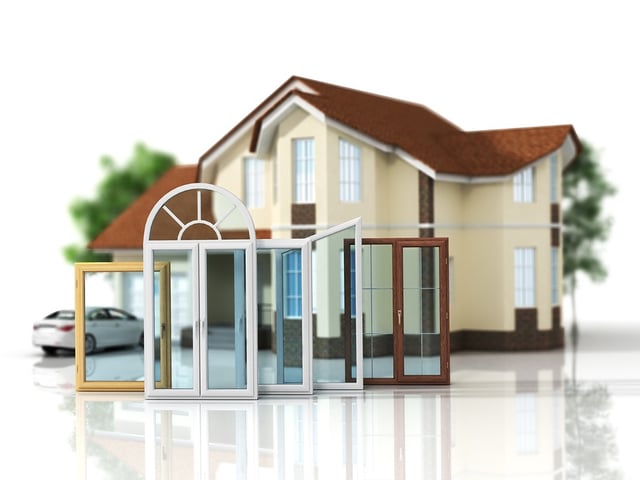 When it is time to replace your home's windows, you will discover a mind-boggling number of options out there. Because windows are not something that most people replace on a regular basis, it pays to do the research so you purchase windows you love at an affordable price.
In this series of blog posts, we are going to explore the various window types, structures, upgrades, and finishings to help you decide which window is best for your home and budget.
In this blog post, our focus is on window frames:
Vinyl
Vinyl window frames are the most widely used type of replacement window frames, in part because they offer the highest energy efficiency along with stylistic options and various price points.
Color or laminate, grid, and hardware choices allow you a few different style options for your home. These high performing windows frames are also the number one consumer choice because they are virtually maintenance free. Vinyl window frames will never require painting or recoating, and are easy to clean.
While vinyl is a great option for most homes, some homeowners prefer the look of wood or perhaps have historic homes in which the use of wood maintains the home's original and historically accurate aesthetics.
Composite
Composite windows are a suitable choice for homeowners who appreciate the look of wood windows but do not like the price tag or the time consuming maintenance that they require. Most composite replacement windows are constructed from PVC resin, making them very energy efficient. One of the features that attract homeowners to composite windows is the availability of paintable and stainable indoor wood laminate.
Fiberglass
Fiberglass windows are a great option for many homeowners. Fiberglass replacement windows have the look of wood without the highly involved maintenance that natural wood windows require. Because of their high tensile strength, fiberglass windows offer a high structural rating while providing a more slender frame that accommodates more glass and a thinner profile.
Fiberglass is more thermally conductive than vinyl, and therefore offer slightly less energy efficiency than vinyl replacement windows. Also, while fiberglass windows offer many style options, these upgrades also typically come at a premium of approximately 1.5-2x that of vinyl windows. Homeowners on a strict budget should take that into consideration.
Wood
Wood windows are often the most expensive option available for window replacement. For some homeowners, architectural continuity or historical accuracy take priority over price considerations. This is especially the case for homes that are designated as historically significant, where using certain conforming items like wood windows may be required by local code, HOAs, or jurisdictional authorities.
Wood is beautiful and warm, and has an organic look and feel. Manufacturers offer many aesthetic options to allow you to customize your replacement windows to fit the style of your home.
On the downside, wood windows are very expensive at the outset and require somewhat expensive and time consuming maintenance. Wood windows generally have a shorter lifespan, and thus, a shorter warranty period.
Aluminum
Aluminum windows are frequently used in multi-family residences like condominiums and apartment buildings, and are common in commercial buildings. Because of this and their lower energy efficiency, many homeowners in single-family residences have opted to replace their aluminum windows with more aesthetic options that also have higher rated energy efficiency.
Still, aluminum windows offer some advantages that make them a good fit for many dwellings. Aluminum windows offer exterior finishes that are highly durable and have a slim profile maximizing the amount of glass surface area. Additionally, aluminum replacement windows have a clean, contemporary look that works with many different architectural styles. Because aluminum is very stable in extremes of both heat and moisture, they are appropriate for beach and desert climates.