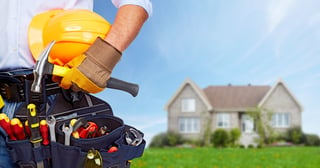 The warmer Spring weather and the arrival of our tax refunds make the perfect combination to finally start those long awaited home improvement projects. Sadly however, it's also the peak time for rogue contractors who prey on unsuspecting homeowners.
Spring typically sees a rise in the number of complaints against shady operators who illegally solicit work and deliver substandard projects at inflated prices. They specifically target people who may be tackling home improvement projects in Spring, knowing that recent tax refunds mean they may be more willing to pay higher prices for goods and services.
There's the story of Don Schaffer, an Oklahoma resident who was left with a $162,000 home improvement bill when contractors had only done $35,000 worth of work. Or Diane Railey, who was randomly approached by a contractor offering to cement her driveway and sidewalk with 'left over' material from a project he claimed to have completed nearby. She agreed and handed over the cash, only to return home and find a driveway consisting of little more than gravel and dust.
The New Jersey Division of Consumer Affairs went as far as listing 40 home improvement contractors who had allegedly cheated customers out of money in the last quarter of 2015 alone.
Virginia is not immune from such unscrupulous characters. Fairfax County Police has issued a statement warning people to be wary of contractors who are attempting to solicit work from homeowners who may be susceptible to home improvement scams in Spring.
"These individuals are coming into the neighbourhoods and knocking on doors trying to solicit work here in Fairfax County," the statement says. "They either do not perform the work promised, use poor or illegitimate equipment, or overcharge the resident for services.
"They often do not have any solicitor's license to allow them to ask for work, or a business license to perform the work. Anyone who comes to your door to solicit a service is required to have a valid Fairfax County Solicitor's License."
Homeowners are being urged to be particularly vigilant this season.
How to find a reputable home improvement company
The Better Business Bureau offers the following advice to homeowners who are looking to engage the services of a home improvement company this Spring, or who are approached unsolicited by someone offering deals that seem too good to be true.
Get Multiple Estimates. Before accepting an estimate, get at least three bids or quotes in writing. Don't feel pressured to go with the lowest bid, as it might reflect the quality of materials.
Ask for References. Ask for at least two or three references from the business' last few jobs and ask questions about the quality of work, if it was within budget and on time, and to the customer's satisfaction.
Check Out Licenses. Be sure to check if the business is properly licensed in your state, if applicable. It's also important that any business you hire is properly insured if working on your home.
Get Everything in Writing. Do not sign a contract until you have read through it entirely. If you made verbal agreements, they should be included in the written contract. Any deposit or payment plans should be included, as well as, any warranties or guarantees.
Reputation is everything
At WoW, we understand how important reputation is in building a successful business. Anyone who has worked with us knows that our philosophy is a simple one: Be upfront and honest. We value great customer service, quality products and world-class workmanship. And we are not in the business of up-selling products our customers don't need. We treat you the way we would want to be treated in our own homes. We pride ourselves on this philosophy, and many of our happy customers would agree.
Whether it's advice, a formal estimate or a complete home improvement project, the WoW team is here to help you this Spring, and will deliver the assistance you need, on time and on budget.
Inquire about our Spring offer, 10% discount on all home improvement projects.