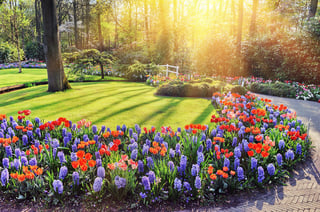 Can you feel it? Spring is in the air. The sun is going to be out a little longer, our gardens are going to bloom as we all feel renewed energy to get outdoors and spruce up our homes and gardens.
Spring is the perfect time to get back outside and start those long overdue exterior home improvements you have put off over the winter.
Here are 3 simple reasons to improve your home this Spring
1. Spring is a time for renewal
There is nothing like a bright spring day to show up the areas of our home that need a little attention. During winter, the gloomy weather and snow can disguise chipped paint and worn siding, while winter's wet weather can expose leaky roof tiles and draughty window frames.
Spring is the time to take action and tackle home improvement jobs both big and small that will prepare your home for the seasons ahead.
2. The weather is on your side
Spring means longer days, warmer temperatures and more sunlight. It's nature's way of encouraging you to get outside and spend some time on our homes and gardens. Whether it's siding, windows, front doors of roofing upgrades, any time you invest improving the exterior of your home is going to pay off on a sunny spring day and your garden in full bloom.
3. Spring is selling season
If you're thinking about selling your home, spring is the best month to do it. Time Magazine recently found that buyers come out in force in spring, and with tax checks arriving in their bank account they are more likely to pay full price. Time also revealed that spring is the peak time for sales, with the number of people who move into their new homes topping 60% by summer.
If you're thinking about putting your home on the market, you'll want to maximise the value of your home. The 2015 Remodeling Impact Report showed that new roofing, new vinyl windows, new garage doors, and new vinyl siding are most appealing to potential buyers and are highly valued upon resale. According to the report, new roofing would recover 105 percent of its project cost, new vinyl siding would recover 83 percent, and new vinyl windows would bring back 80 percent of their cost.
Here at WoW we would like to make that a little easier for you with a new Spring offer that will make your home improvement projects more affordable than ever.
Spring into action today and get started early on your home improvement projects.