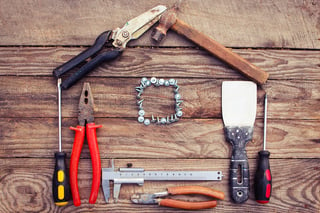 Spring is in full swing, meaning homeowners looking to spruce up their homes and gardens are able to take advantage of the nicer weather, longer days and a more buoyant real estate market.
While Spring is always a great time to start those home improvement projects, it can be a process fraught with frustration. Even well planned projects can be derailed by wet rot lurking behind your walls, dodgy wiring or over-ambitious renovators taking on more than they can handle.
Here are five of the most common home improvement mistakes people make and how you can avoid them this Spring:
1. Poor planning
When it comes to DIY, it can be tempting to strap on the toolbelt and jump right in. But this is almost always a recipe for disaster. Detailed planning is necessary to keep projects on time and on budget. If you are using contractors, it is essential to get everything in writing and agreed to before the project begins. Also, avoid the temptation to buy any new appliances before you have planned properly. That 24-inch dishwasher on-sale at Best Buy won't save you a dime if you end up with only enough room for an 18-inch model.
2. Inaccurate measurements
There is a saying in the trade that says: 'measure twice, cut once'. We think that's conservative. Measure three or four times. Getting measurements right is the basis for costing and sourcing materials. Nancy Soriano, former editor in chief of Country Living magazine says, "I can't emphasize enough how an inch or even sometimes half an inch can make a difference. And if your dimensions are off and it's not equal and symmetrical, you are not going to get the full impact and effect that you want."
3. Taking on too much
Inconvenience, messy debris and scheduling conflicts are a part of every remodelling project - and despite your best efforts, not everything will go according to plan. Taking on too many projects at once leaves you vulnerable to unforeseen changes and complications that could delay work or impact your budget, forcing certain projects to remain incomplete once started. We recommend tackling one project at a time, allowing you to fully concentrate on managing the tasks at hand — while also allowing you to balance work, family and social life while you renovate.
4. Penny-pinching
When it comes to home renovations, there is a big difference between 'inexpensive' and 'cheap'. Quality materials, tools and finishings may cost a little more upfront, but will be nothing compared to the cost of starting over when inferior work begins to fail. "Don't get swallowed up by the penny-pinching mind-set," says homeowner and do-it-yourself remodeller Philip Bovenkamp of Bellingham, WA. "That being said, don't be foolish when thinking about tackling a challenging project. If something is beyond your skill level, don't try to save money by doing it yourself; hire a professional." Hire competent people to do the job, buy quality materials and take the time to complete all the necessary steps.
5. Not getting a permit
Depending on where you live and the type of home improvement project you are considering, the jurisdiction may require a permit. It is never a good idea to start a project and worry about the legal paperwork later. Even if you do not get caught, when you go to sell your home, your work could be called into question and delay or jeopardise the sale. Worse, if something bad happens because of your workmanship, the new owners may have grounds for legal action.
With many people replacing windows during the Spring you may find our new ebook "The Cost of Replacement Windows: Cost v's Value" helpful.