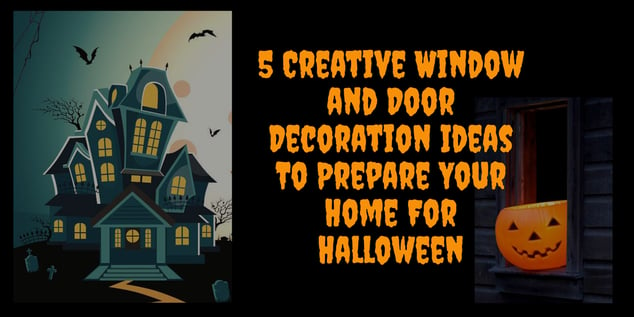 It's that time of the year again, the time to deck the halls with…fear and terror. That's right, trick or treaters are just around the corner and you need to be prepared to greet them properly. To make your home stand out with some creative Halloween decorations for your windows and doors here are some ideas:
1. Turn Your Front Door Into A Scary Monster
This can be a fun DIY project for the entire family; you can use two white plates to create the monster's eyes and some tape for his mouth and hair. If you want to make things even scarier, go ahead and add a fake (or real, why not?) ax and a touch of ketchup blood around his mouth.
2. Create A Spooky Spider Attack
Grab some plastic spiders – the more the merrier…um…scarier – and some fishing nets or old stockings. Arrange the "spider webs" around your windows or, for a greater impact, very close to the front door. To push things a step further, place the webs so close to each other that the trick or treaters will have to touch them to make their way through. Spookiness guaranteed!
3. Have Mice and Bats Safeguard Your Entrance
You can easily get bats that appear to be flying from many stores. Place them around your front door and windows – and make sure there are enough of them to spook people out! Use mice silhouettes on the stairs of your walkway and rubber mice by the front door. If you're feeling crafty, you can create both mice and bat silhouettes yourself from cardboard.
4. Use Backlit Silhouettes For An Incredible Effect
Backlit silhouettes can help you give a mysterious and dark vibe to the entire house and they're extremely easy to make! Use cats, witches' hats, broomsticks, spiders, bats, mice – almost everything works because the real scare factor is the back lighting. Place these silhouettes on the windows and reduce the lights in the room to a minimum. It's a guaranteed wow factor!
5. Create An Unforgettable Wreath
You can use a Christmas wreath as a basis for this or simply create a new one from wires. Add monster googly eyes, severed and bloody limbs, ripped out hearts, spiders, and a skeleton head in the middle. Hang it on your front door and make sure to reduce the lights on the porch to a minimum, you want people to be able to see it only when they are up close, this will really get their hearts racing. Bonus: this is really easy to take off as soon as Halloween is over.