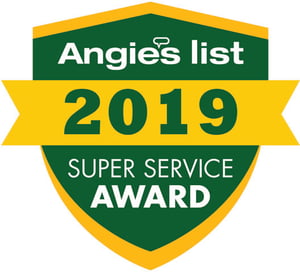 What better way to kick start 2020 than with the news that Windows on Washington has received a 2019 Angie's List Super Service Award (SSA)! Better still - it is our 10th consecutive SSA. In case you do not know, this particular award honors service professionals who have maintained exceptional service ratings and reviews on Angie's List (a consumer review site for local service providers) in 2019.
On this year's list of winners, Angie's List Founder Angie Hicks said: "Service pros that receive our Angie's List Super Service Award represent the best in our network, who are consistently making great customer service their mission. These pros have provided exceptional service to our members and absolutely deserve recognition for the exemplary customer service they exhibited in the past year."
As an SSA 2019 winner, WoW has met strict eligibility requirements, which include maintaining an "A" rating in overall grade, recent grade and review period grade. The SSA winners must also be in good standing with Angie's List and undergo additional screening.
Windows on Washington co-founder Tara Novotny said being awarded the SSA for 10 years in a row is an excellent reflection of WoW's hard work, professionalism and most importantly, a love of the industry.
While we are so humbled to receive this honor once again, we are also aware we could not do it without the incredible support of our clients, and our outstanding team. So, what makes WoW different, and why should you consider us for all your home improvement needs in 2020?
We Go Above and Beyond
For us, the bare minimum is not an option. We consistently go above and beyond for our clients, both old and new. Not only that, but we perhaps take the non-traditional view that home improvements should be enjoyable and stress-free. That is why we work tirelessly to ensure all of our consultations, installations and customer care experiences exceed our customers' expectations. We are dedicated to providing our customers with beautiful, comfortable and energy efficient homes, and that is why we are one of the most respected home improvement companies in Maryland and Virginia.
We Don't Believe in the "Hard Sell"
While other home improvement companies might live and breathe the "hard sell", at WoW we take the time to listen to you so we can provide the right solution that suits your budget and lifestyle. Our customers consistently tell us how much they value our helpfulness and how we avoid any high-pressure selling tactics.
We Know What Works
We have been in the industry for a while, so we know what products work, and what is simply a fad. We never cut corners and we only work with the best people and products on the market. There is currently an overabundance of products to choose from and customers often come to us with their heads swimming in confusion. We take away the confusion by offering professional advice based on decades of industry experience.
Our Expertise is Unparalleled
As Virginia and Maryland's premium home improvement provider, it is safe to say we are experts in what we do. All of our staff and installers undergo an intense training process, and continuously upskill when necessary, so when we say we are experts, we mean it.
In addition to receiving Angie's List Super Service Award, we have an A+ rating with the Better Business Bureau and have never had a complaint filed against us. We also have countless positive customer reviews on Angie's List, Customer Lobby, Guild Quality, Houzz, and Yelp!
Thank you to Angie's List for giving us this prestigious award and to all of our customers for your kind words, loyalty and time. We are looking forward to seeing what 2020 brings!