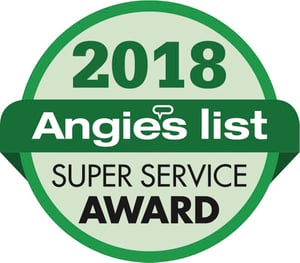 At Windows on Washington, excellence, professionalism and a high-level of customer service underpins everything we do. That is why we are thrilled to announce we recently received the great news that we earned the home service industry's coveted Angie's List Super Service Award (SSA) in 2018 – for the 9th consecutive year! This award honors service professionals who have maintained exceptional service ratings and reviews on Angie's List in 2018. Angie's List SSA has been running for 20 years and recognizes the best of the best in the home service industry.
Angie's List Founder, Angie Hicks, said: "Service pros that receive our Angie's List Super Service Award represent the best in our network, who are consistently making great customer service their mission.
"These pros have provided exceptional service to our members and absolutely deserve recognition for the exemplary customer service they exhibited in the past year."
To be awarded one of Angie's List Super Service Awards, WoW had to meet strict eligibility requirements, which included maintaining an "A" rating in overall grade, recent grade and review period grade. So, how have we managed to be recipients of this coveted award for nine consecutive years?
We Give Our Customers the Ultimate WOW Factor
Every day, we strive to go above and beyond for all of our customers, both old and new. However, what really sets Windows on Washington apart from our competitors is the fact we believe home improvements should be an enjoyable experience, with the least amount of stress possible! Since 2005, we have worked tirelessly to make sure all of our consults, installations and customer care experiences are carried out in a way that minimizes the stress often involved with home improvement projects and offers every one of our customers a fair and honest home improvement experience. That is why we are now one of Virginia and Maryland's most respected home improvement companies. We not only go above and beyond in terms of customer care, but we also provide our clients with stunning, comfortable and energy efficient homes.
We Listen to Our Customers (And Don't Employ Annoying Sales Tactics)
We never 'sell' to people who come to us for help or advice and we never push them to do anything to their home they do not want to do. During our in-home consultations, a member from our team will listen to the unique needs of the home owner, taking the time to understand their lifestyle and budget, and then recommend a solution that is bespoke to their requirements. We are constantly told how much our customers enjoy and respect the fact we never execute any high-pressure selling tactics. Instead, we offer honest and helpful advice each and every time, allowing our clients to be informed and in control at each step of the buying process.
We Work with the Best of the Best
When people engage WoW to carry out their home improvement project, they have the peace of mind knowing that we only work with the best products available. We have been in the home improvement industry for a long time, so we know the difference between brands and select the products we offer very carefully. Basically, we do all the hard work and research so our clients can sit back, relax and what their home improvement project come to life.
We Offer Unmatched Expertise
A sad but true reality is that some improvement companies out there say they are experts in what they do, which is not always the case. This makes it difficult for homeowners to know who they can trust. At WoW, all of our staff and installers undergo an intense training process, meaning we really are experts in what we do.
In addition to receiving Angie's List Super Service Award, we have an A+ rating with the Better Business Bureau and have never had a complaint filed against us. Furthermore, we have countless positive customer reviews on Angie's List, Customer Lobby, Guild Quality, Houzz, and Yelp.
Windows on Washington are honoured and thankful to once again receive the Angie's List Super Service Award and we are excited to see what 2019 has in store for us. And of course, a big thank you to all of our WoW customers who have made all of this possible, we could not do it without you.