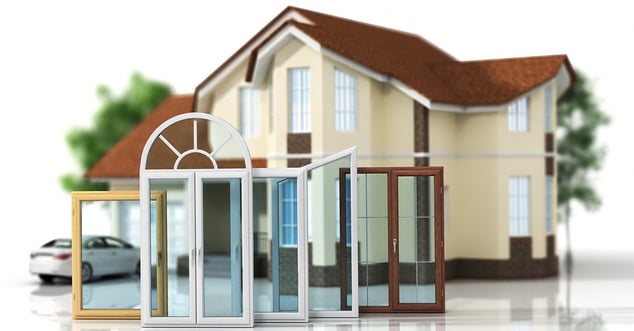 Choosing replacement windows for your home is not as simple a task as it might seem. The truth is there are many variables to consider when choosing the material that will be right for your home. You will need to consider things like energy efficiency, aesthetics, cost and maintenance, just to name a few. Everyone has their own individual criteria for deciding which window replacement material will suit them, however, vinyl is a very popular choice for many homeowners. In this article, we are going to discuss why many homeowners choose vinyl replacement windows, and if it is time to replace your windows, why you should too.
Vinyl Windows Are Energy Efficient
The state of our environment is a trending topic these days, and many homeowners are weighing in on the issue by ensuring their homes are as eco-friendly as possible. One of the biggest reasons people choose to replace their windows is due to the effect windows have on their energy bills and furthermore, the environment. Homes that are older and still have their original windows do not always keep the hot or cold air out as well as they could, which in turn requires homeowners to use more expensive forms of heating and cooling more often than they would like. In addition, it is likely that older windows will have cracks in the framing, worn out weather stripping, or no longer fit in the frame after years of wear and tear.
Generally, replacement windows mean a more energy efficient home and vinyl windows do just the trick. By installing vinyl replacement windows, not only will you reduce drafts near your windows, but the advancements in the efficiency of the glass and frame components will significantly reduce the outside air from cooling or heating the inside of your home. This will not only reduce your energy bills, but you will also be doing your part to help the environment.
Vinyl Windows Are Virtually Maintenance-Free
Once you have new windows installed, you do not want to be spending your spare time maintaining them. The thing that makes vinyl replacement windows so popular is that they require minimal maintenance once installed. Vinyl does not flake or need repainting like aluminum or wood, so there is almost no maintenance required (except for the occasional wash every now and again). Vinyl replacement windows can also withstand all kinds of environmental pollutants, such as sea spray and year-round dirt.
Vinyl Windows Can Help Block Out Noise
If you live on a busy street or have particularly social neighbors, vinyl replacement windows might be your savior. Do you have a neighbor who enjoys rising at dawn to mow their lawn, or is constantly entertaining with noisy guests until late in the night? The reality is, we cannot choose our neighbors, but we can choose windows that will help keep the noise out and the peace and quiet in. Replacement vinyl windows, especially with laminated glass, are excellent at keeping noise out and allowing you to sleep or relax when you want. It is a simple solution to a noisy problem.
Vinyl Windows Keep You Safe
Replacement vinyl windows do not just save you money and keep out the noise, they also can protect your home due to safety features that some older windows do not have. Some windows do not lock properly or have glass that can easily be broken. The good news? Many modern vinyl windows come with laminated glass, which is an extra layer of protection for you, your family and your home. Also, many windows have dual locking systems, which can make it more difficult to break into the home.
Vinyl Windows Offer Good ROI
Whether or not you are thinking of selling your home in the near future, considering the ROI of your home improvement projects is always a good idea. New windows are one of the most important things homebuyers look for when purchasing a new home. And, according to Remodeling Magazines' Cost Vs Value Report 2017, vinyl replacement windows offer a 77.8% ROI. Safe to say, investing in replacement vinyl windows is certainly worth the initial outlay.
Vinyl Windows Are Durable
When you are investing in new windows, you want to make sure they are made of a material that is durable and will last you a long time to come. You only want to invest in this project once! Vinyl replacement windows are a popular choice for homeowners due to the fact vinyl contains durable surfaces that stand the test of time. Vinyl windows do not rust like steel windows, do not rot like wood windows, and do not corrode like some aluminum windows. Furthermore, most vinyl windows come with a variety of warranties, such as a lifetime of glass breakage warranty, a lifetime installation guarantee and a lifetime no fog guarantee, so you can feel safe knowing you are protected for life, no matter what.