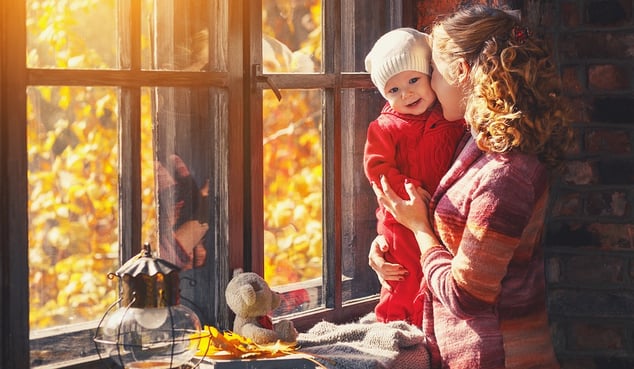 As the leaves begin to change color and the weather becomes cooler, you know that fall is here. With the arrival of fall comes the anticipation of the upcoming holiday season, and you might already be thinking about your holiday decorating. However, there is another thing you should also be thinking about, and that is whether your house is ready for the impending winter weather.
Unfortunately, too many homeowners wait until they are sitting at home, covered in blankets and drinking too many cups of hot chocolate to keep warm, to actually do something about it. More often than not, people wait until the cold is unbearable to fix the problem. However, with a little forward-thinking and some preparation, you can make sure your home and family are prepared for the colder months ahead. How? Through home insulation.
What is home insulation?
Insulating your home helps keep the temperature of your home at a nice level all year round, protecting it from the cold in winter and against the heat in summer. Essentially, insulation acts as a barrier to heat loss and gain, particularly in roofs, walls and floors.
Having a well insulated house is extremely energy efficient, and it also means you need less heating and cooling to maintain a consistent temperature, which is great for the environment and for your energy bills. Furthermore, insulation may also reduce the amount of condensation in your home. This can provide health benefits as it reduces the amount of mold and dampness in your house. Really, there are countless benefits when it comes to insulating your home. In this article, we are going to discuss why fall is the perfect time to insulate your home.
The freezing cold is still a few months away
While the weather is noticeably cooler in fall, it is still not cold enough that you will be uncomfortable in your home. However, once winter comes and if your home is not insulated, you will certainly feel it. Do not wait until your house feels like a freezer to actually do something about it. Get ahead of the weather and save yourself some uncomfortable cold months by insulating your house during fall.
You will save money
While insulating generally costs as much in winter as it does in fall, you actually end up saving money on electricity bills when you insulate earlier. Insulation helps make your house more energy efficient, which lowers your energy bills. Therefore, insulating in the fall when the weather is just starting to get cooler is a good idea. By insulating during the fall, you will begin saving money the second you turn on the heater. This is because your house is already prepared to keep all the cozy heat in, and the unwanted cold out.
You will stay healthier
The cooler weather always inevitably brings with it the flu season. Insulating your home before the cold weather hits is a great way to keep allergens and pollutants away, and improve the air quality of your house. Breathing cleaner, fresher air can help you stay healthier during the winter months, especially if you suffer from a low immune system, asthma or allergies.
Reduce the noise pollution in your home
One thing we love about fall and winter are the holidays that come with it. The holidays are perfect for spending quality time with your friends and family, and your neighbors are probably thinking the same thing. While the cooler months are a great time for social gatherings, you do not want to be kept awake all night by your neighbor's loud parties. Thankfully, spray foam insulation can help reduce the noise pollution in your house, ensuring your home stays peaceful and quiet year round.