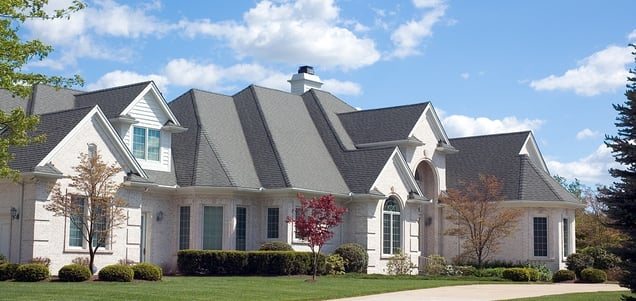 Roofs are an essential part of any home. Not only does it shelter your house from the elements, it is also an essential part of the structural foundation on which your home is built. Your home is more than likely your biggest investment, so it is important to look after it. Ensuring your home has a good quality roof is one way you can keep your investment in the best possible condition for years to come.
However, some owners are hesitant to replace their roofs due to the associated costs. While it is true that a good replacement roof can be a costly expense, it is important that you do not put off replacing your roof when it's clearly required. When it comes to replacing your roof, it is vital the job is done professionally and with good quality materials. Although the initial outlay may seem expensive, it is important you do your homework and choose quality materials and a reputable contractor - as this will save you money and hassle in the future.
The price of a replacement roof greatly depends on a few factors, these include:
Pitch
Number of peaks and valleys
Type of application
Type, brand and style of Shingle
Material selection such as underlayment, starter, drip edge, sheathing
Number of layers for removal
Geographical area in which you live
Local code requirements of your roof
Number of skylights, chimneys, exhaust or plumbing pipes
Proper venting components
Rooftop or ground delivery
Accessibility of the property
Getting a quote
Proposals and quotes from roofing contractors will differ significantly depending on who you choose to quote the work. One roofing contractor might offer a basic handwritten quote that is one page, while another may produce an official-looking document that is a few pages long and includes a detailed outline of each material selected and the application in which it will be installed. Some quotes may contain all the costs involved in a roof replacement, but other quotes may not which can result in additional fees after the installation has begun. It is important you ask the contractor ahead of time what you expect to be included in the quote. You do not want to be handed an invoice at the end of the job that is exceedingly more than you expected.
The most important thing to remember is you need to get a number of proposals, with as much detail about the costs involved as possible, so that you can compare apples to apples.
Roof replacement materials
Shingles are one of the most popular materials used on roofs in the United States. Shingles can be made from a variety of materials such as asphalt, clay, slate, wood or metal. The material you choose is dependent on your personal tastes and budget, where you will need to consider both installation costs, longevity and maintenance. Here is some additional information on the different types of shingles available to you.
Asphalt Shingles
Asphalt shingles are the most common shingle material in the U.S. They are known for being a light material that is easily installed. They may also cost less than other roofing material options. Previously they were regarded as non-recyclable, however new advances in recycling technology have made recycling asphalt more cost-effective in some areas.
Wood Shake Shingles
Wood shake shingles are made from an all-natural material, making them a visually stunning roofing material. However, wood shake shingles are high-maintenance. They deteriorate faster than other materials and can be susceptible prone to fire. And, unless treated, wood shake is attractive to insects and mold.
Metal Shingles
If you are after a material that will withstand the test of time, metal roofs might be the best option for you. They are usually the longest lasting, most durable of all the roof materials. Due to advances in design and color options, homeowners are now discovering that metal roofs can actually visually stunning and more attractive than other types of roofing on the market. In terms of cost, they are on the higher end of the scale, but require little to no maintenance and have warranties that can reach well beyond the 50+ year mark. This makes metal shingles an appealing option for homeowners who plan on staying in their home for a long period of time or want a strong ROI if they plan to sell in the near future.
Tile Shingles
Tile shingles are a good roofing option, as they are easy to replace if and when they get damaged. Tile is also a popular option as it can be formed into custom shapes and colors. It is not as costly as metal or wood, however, it is not considered highly economical either. Customization significantly increases the price you pay. Also consider that the frame of your home must be strong enough to carry the weight of a tile roof.
Slate Shingles
Slate shingles last a long time and many homeowners prefer it over metal due to its natural look. It is a particularly popular roofing material for larger homes that are about 3,000 square feet and above. Many HOAs in neighborhoods that were built with slate shingles will require a similar material upon replacement.
How to get the best price for your roof replacement
When searching for the best price for your new roof, it is a good idea to compare at least three different roofing companies and what they can offer you. As we mentioned before, when receiving a quote, make sure you ask the contractor about other factors that might drive up the cost.
How long will a good replacement roof last?
The lifespan on your roof will depend on its material as well as the climate where you live. However, if you take care of your roof with yearly check-ups, you can ensure it lasts as long as possible. Keep the guttering clear and replace any damaged or missing tiles as soon as possible.