The spookiest day of the year is upon us – that is right, Halloween is only a mere few days away. At Windows on Washington, we love any excuse to make homes look and feel amazing (especially if it involves being creative and a little bit spooky). Perhaps now more than ever is a time to put the year behind us and revel in some festivities, and there is no better way to turn up the chills and thrills of Halloween than decorating your home for the occasion. Not to mention there is nothing quite like giving your neighbors and trick or treaters a playful scare when they come knocking on your door this Halloween. There are countless ways and themes you can tap into when it comes to getting into the Halloween spirit, so how do you decide on a theme? Do you go traditional? Family-friendly? Spooky? Do you choose an elegant theme, playful, subtle or completely over the top? To help you decide we have gathered some of our best tips for how to decorate your home based on three of the most common halloween themes.
---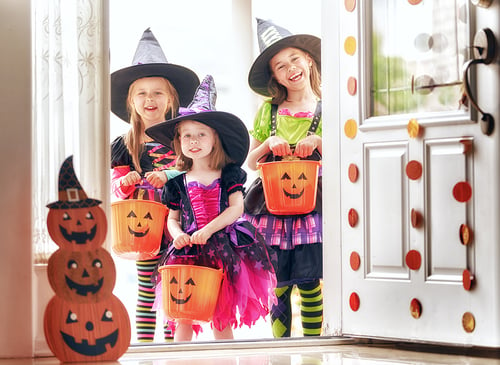 Family-Friendly Decoration
Family-friendly Halloween decorations are ideal if you have children of your own or live in a neighborhood with lots of kids. All you need for a family-friendly theme is plenty of bright colors and lots of smiling pumpkin faces. Colors like purple, orange and black work well. And, instead of blood and gore which might frighten young children, you can decorate your home with friendly witches, ghosts and scarecrows. Or, you can add garlands to your front windows and have a playful trick-or-treat sign erected in your yard.
---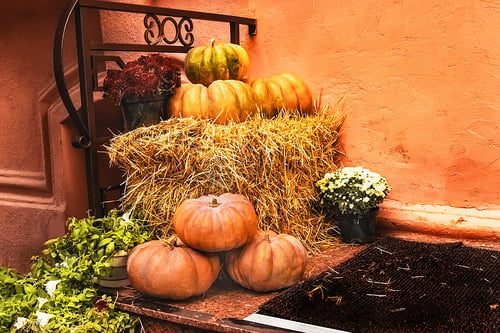 A Traditional Halloween Theme
If a traditional Halloween theme is more your style or you want something simple and subtle, a harvest theme might be what you are looking for. The best way to bring the traditional harvest theme to life is by laying a wreath on your front door. All you need is a dried grapevine wreath. You could create a harvest theme with pumpkins. You can place traditional jack-o'-lanterns on your doorstep or just outside the front of your house. Make your pumpkins stand out by creating different shapes and colors. You can also carve different faces on each pumpkin, from friendly to down-right terrifying. For a sensory experience, make sure you cover your yard with crunchy fall leaves, which you can do by not raking your lawn in the days leading up to Halloween.
---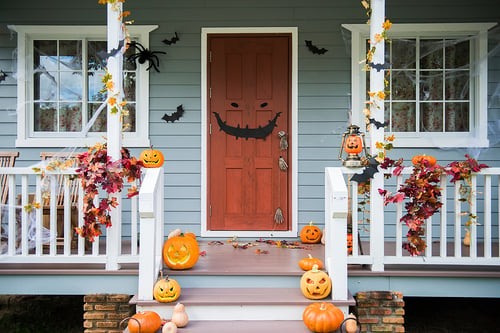 Downright Spooky
Halloween and 'spooky' are synonymous with each other, so if you want to play into a frightening Halloween theme, there are countless spooky decorations to choose from such as ghosts, skeleton, skulls and more. A fake spider web would not go amiss, while adding little black spiders will create an even scarier and more authentic look. Create an even more frightful look by sticking fake bones into your front yard so it looks like zombies rising from the dead. Or, take an old pair of boots and have them emerging out of a big pile of leaves or dirt, which will make it look like there is a dead body on your lawn.
You could also put skeletons in rocking chairs or have them seated on chairs on your front porch. And, if you really want to go all out and create a really spooky feel, you could also hire a smoke machine, which would certainly make your home's decorations one of the most memorable!
Regardless of how you plan to decorate and celebrate the season, we wish you a Happy and safe Halloween!