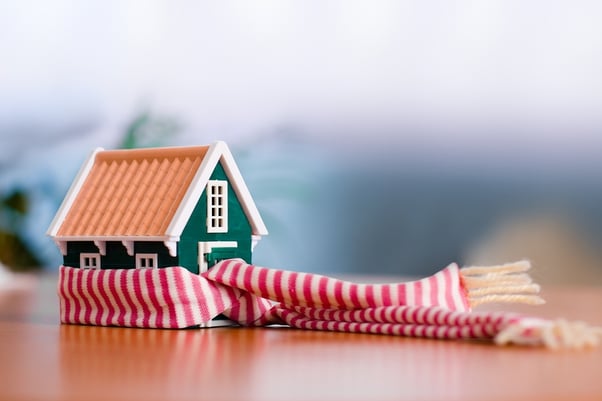 Fall and winter is a magical time of year when families and friends come together to celebrate Thanksgiving, Christmas, and the New Year. Even those cold weekends snuggled up by the fire with a good book has a charm that can only be experienced in winter.
However, winter is also the season when our heating bills increase exponentially, but it doesn't have to be this way. With these home improvements, some of which you can do on a quiet weekend at home, you can stop worrying about the heating bills and just enjoy the Holidays with your loved ones.
Seal Your Windows and Doors
You may already know this, but it never hurts to be reminded, especially during the colder weather. Windows and doors are the primary avenue for heat to escape your home. If they aren't properly sealed, you are literally throwing money out the window.
Here are some of the things you can do to seal the warmth in your home and keep the cold at bay:
re-caulk the areas around your windows and doors than are dry, missing or peeling
check to see if the weather stripping around your windows is intact – if not, replace it
make sure your locks are tight
check to see if your threshold is up to par – if you can see daylight under your door, you may need to install a door sweep
Three's A Charm
Most US homes will feature standard double pane windows. However, triple pane windows have been shown to improve energy efficiency around your home by anywhere between 20 - 30% (or up to 50% if you still have single pane windows).
For the energy conscious, upgrading your windows to triple pane glass could be the best way to make sure your home stays warm in winter.
Learn more about the energy efficiency benefits of triple pane windows.
Install A Programmable Thermostat
A thermostat can help you save up to 20% on your heating costs. Think about a cold, winter day when you leave for work in the morning, but return at night to a cold, unheated home. A thermostat solves this problem for you in the most efficient way: instead of leaving the heat on for the entire day, you can just program it to be turned on an hour before you arrive home. It will come on automatically, taking the chill out of your home when you return from a long day at work. You get both comfort and energy efficiency from this simple upgrade.
Insulate Your Attic
You may think about the attic as an annex to your home, but the reality is that an attic with inadequate insulation can cost you a lot in the winter. For proper insulation, you need at least 8 inches of cellulose or 11 inches of fiberglass. Don't forget about the attic hatch too – add weather stripping around it to make sure you reduce your energy loss.
Seal Any Additional Air Leaks
You may be losing heat in places you have never considered. Here's a check list that you can use:
Electricity boxes – drafts can come inside your home from around the box, as well as through the box. In order to stop them, remove the plates and fill any gaps with acrylic latex caulk or foam sealant.
Chimney - a nice fireplace is great for heating your home, but only if your chimney is not leaking air. Get a specialist to check it out to ensure efficiency.
Holes in exterior walls - check the areas around the pipes, electricity lines and gas lines that enter your home. Typically, they are very poorly sealed.
Ductwork - go to your attic or basement and check for places in which the ducts are pulled apart at corners and seams.