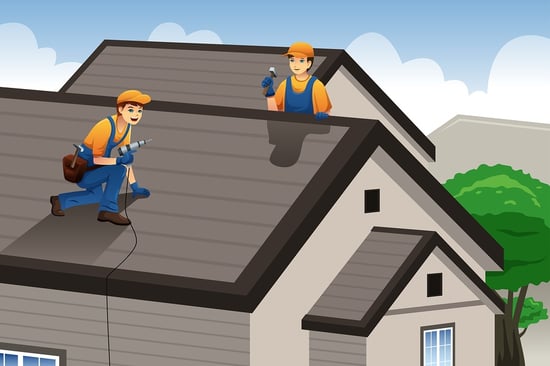 Americans spend about $40 billion annually to air condition their homes and offices - roughly a sixth of all electricity generated in the US alone.
Yet, much of that money is being spent on conditioning buildings that fall short on modern energy efficiency standards. Air leakage and inadequate insulation are two of the most common causes for inefficient heating and cooling in American homes. Air leakage accounts for 15−25% of winter heat loss in the typical home. Meanwhile, research conducted by the Department of Energy revealed that heating and cooling makes up 48% of total energy use.
Adequate and properly installed insulation works to inhibit the transfer of heat. In winter it prevents cold air from outdoors penetrating the inside of your house. Conversely, during summer, insulation helps trap cool, conditioned air inside the home while resisting the heat from outdoors. It is one of the most important features of any energy efficient home.
A professionally installed roofing system from a trusted manufacturer can also help you significantly reduce your energy costs and make your home more comfortable. Some of today's quality roofing systems have increased insulating values. Likewise, "cool" roofing options from manufacturers like Englert, Certainteed Solaris, Firestone, Decra and Classic Metal Roofing Systems can increase your heat deflection and save you even more money in energy costs. Moreover, there is no better time to have access to the attic in order to install proper levels of installation than during a roof replacement project when the space is already open for renovation.
How To Reduce Bills With a New Roof
Look For Its Energy Star Rating
HowStuffWorks Home and Garden expert Stephanie Watson advises homeowners to look for roofing products that carry the government's ENERGY STAR label.
"The government created the ENERGY STAR program to help promote the use of energy-efficient products. Only roofing products that are highly reflective are given the Energy Star label," she says. "These roofs can reflect enough of the sun's rays to lower the temperature on the surface of your roof by as much as 100 degrees Fahrenheit (56 degrees Celsius)."
"Pick your roofing material and color based on your location. Light-colored roofs tend to reflect heat and are good in warmer climates, while dark-colored roofs absorb heat and are better in cooler climates. If you live in a warmer area or have trouble keeping your home cool, but you don't want to splurge for a whole new roof, you can cover your existing roof with a light-colored coating to lower your cooling costs."
Consider A 'Cool Roof' Option
According to the Department of Energy, a cool roof is one that has been designed to reflect more sunlight and absorb less heat than a standard roof. Cool roofs can be made of a highly reflective type of paint, a sheet covering, or highly reflective tiles or shingles. Nearly any type of building can benefit from a cool roof, but consider the climate and other factors before deciding to install one.
Just as wearing light-colored clothing can help keep you cool on a sunny day, cool roofs material that is designed to reflect more sunlight and absorb less heat than a standard roof. Cool roofs can be made of a highly reflective type of paint, a sheet covering, or highly reflective tiles or shingles. Standard or dark roofs can reach temperatures of 150°F or more in the summer sun. A cool roof under the same conditions could stay more than 50°F cooler and save energy and money by using less air conditioning.
Apply For Your Federal Income Tax Credit
US homeowners are being offered tax breaks to make energy efficient improvements to their homes — including roofing — with the IRS officially extending the non-business energy property credit through to December 31, 2016.
The non-business energy property tax credit provides a 30% credit for installing qualified energy efficiency improvements to your home, and provides credits in various amounts for costs relating to residential energy property expenses. Labor costs for onsite preparation, assembly, or original installation are included as eligible expenses.
Find out how to take advantage of the Tax Credit here.
Invest In Adequate Insulation
There is a stack of science out there about heat transfer and thermal exchange, but all you really need to know is this: in winter, heat escapes your home. And in summer, it tries to return. Insulation regulates the temperature of your home regardless of the weather, offering you and your family a comfortable living environment all year round.
It does this by trapping the warm air inside your home. It also acts as a barrier to the cold air trying to enter. With correctly installed insulation, you will find your home less reliant on heaters and fireplaces to maintain warmth and comfort throughout winter.
There are four standard types of insulation used in residential buildings and our In-Home Consultants can discuss with you which type is best for your home:
Blanket insulation: Filled with mineral fibers, including rockwool and fiberglass
Polyurethane and polyisocyanurate foam insulation: Sprayed into the crevices and cavities of a home by a professional installer
Loose fill insulation: Consisting of cellulose, rockwool and/or fiberglass, contained in pellets or fibers and installed with pneumatic tools
Rigid insulation: Typically packaged in boards or pip fittings and is typically used to insulate wall sheaths and foundations.