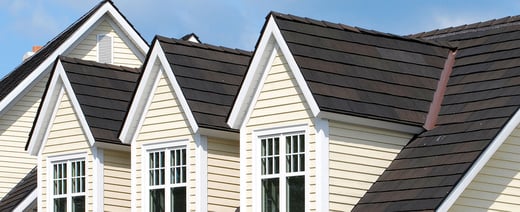 You know the old saying: We all want to keep a roof over our heads. Whether it is basic shelter or curb appeal, roofs are synonymous with security, safety and stability. But roofs don't last forever and eventually need upgrading and replacement. Perhaps that old saying should be changed to read: We all want to keep a roof over our heads, without breaking the bank.
Thankfully, when it comes to roof upgrades, there are a wide range of materials that can suit just about any budget. And when you consider the typical 55% - 60% return on your initial investment, a roof upgrade is a wise long term investment in your home, whether you plan to sell or live there happily ever after.
But How Much Should You Pay?
Our friends at Home Advisor report that the average cost of a new roof for a typical US home is $6,726. But the price can vary greatly depending on a number of factors:
Roof size
Pitch (steep roofs take a lot more time and materials to cover than a flat roof)
Type of application (how it is installed on your roof deck)
The type of material you use
Number of layers (could involve taking off old layers, which takes more time)
Relative style (simple up-and-over roofs will be less expensive that a roof with many decorative or intricate planes and elevations)
Where you live (material prices and requirements by roofers vary by region)
Code requirements for your roof
If you have a lot of skylights, chimneys, plumbing pipes or other adornments that need to be addressed during the installation
Below is a list of the indicative costs you might expect when planning a roof upgrade, based on various materials available to homeowners.
Asphalt Shingles
The majority of homeowners choose asphalt shingles due to low cost, straightforward installation, and resiliency. Standard asphalt shingles are available in many color choices, which make them a nice choice for any architectural style. They are available in traditional 3-tab shingles or thicker laminated "architectural" shingles. Asphalt shingles are made of either a paper fiber mat (better suited for cold weather and wind resistance) or fiberglass (offers better fire and moisture resistance) impregnated with asphalt and coated with mineral granules. Typically, asphalt shingles will offer you one of the lowest priced options. On the other side, asphalt shingles have a lower insulative value and a shorter lifespan than many other roofing materials now available.
Observed Life Span: 15 to 30 years
Cost: A DIY asphalt roof installation on a standard ranch-style house costs from $680 to $3,700, depending on the size of the roof and the quality of the materials. Professional installation can cost between $1,700 and $8,400.
Wood Shingles and Shakes
Wood shingles and wood shakes are available in a range of woods including cedar, redwood and pine. Wood shingles are machine cut, while wood shakes are hand cut for a more rustic look. It is possible to purchase fire-resistant treated Class A wood shingles for an additional cost. Wood shingles and shakes can add attractive architectural details to bungalows and historic properties. Wood is a natural product and thus greener in some ways, but sustainability can still be an issue. Although very attractive, wood roofing systems are high maintenance, can have poor fire ratings and tend to rot, split and mold over time. If you like the look of wood, but want something more affordable with less maintenance, you might consider metal roofing or synthetic shingles that mimic the look of wood without the drawbacks.
Observed Life Span: 10 to 20 years
Cost: A natural wood shake roof can cost $6,800 to $20,000. For better fire protection, simulated wood shake made of recycled rubber or plastic runs from $12,600 to $18,900.
Metal (Steel, Aluminum, Tile and Copper)
Metal roofing offers some of the coolest roofs available, both in architectural style and temperature. Available in copper, aluminum, and stainless steel, metal roofs often contain a significant percentage of recycled material. Metal roofing provides high thermal/solar reflectance and incredible durability, lasting on average nearly twice as long as wood or asphalt. Metal shingles are significantly lighter than most other roofing materials and very resistant to bad weather and wind lift. Metal shingles are available in many styles and generally mirror the look of traditional roof coverings like shingles, slate and tile. With metal, you can get the architectural style you want with the price you want in an environmentally friendly material you can feel good about. This makes metal roofing systems a good choice for nearly any style home.
Observed Life Span: 30 to 50+ years
Cost: Steel roofs cost from $5,100 to $22,000. Aluminum is lighter-weight and costs from $11,900 to $24,200. Copper features a lovely color when well-maintained and can also look beautiful when a light patina is allowed to form on it. It costs from $25,500 to $39,600.
Clay and Concrete Tiles
While clay tiles are non-combustible and very durable, they are very heavy and require additional roof framing. Clay roofing tiles are available in lighter colors, which can reflect over 50% of solar energy and adhere to cool roof standards. Concrete roofing tiles also offer a great look and value to your home. Concrete tiles are versatile and come in many design options - colors, shapes and textures - to give homeowners many choices. Roof tiles are made from natural clay or concrete. Tile roofing materials are very durable and offer minimal maintenance. They are naturally fire-resistant, offer a significant level of insulation and have high impact and wind lift resistance. Tile is appealing primarily for homes in a Mediterranean, European or Mission style. The downsides of natural clay and concrete tile are weight and price.
Observed Life Span: 30 to 50+ years
Cost: Concrete tiles are long-lasting and can cost from $7,650 to $21,000. Tiles are also available in ceramics and cost around $11,900. Customizations increase the price, however, and range in cost from $17,000 to $60,000.
Need an expert opinion?
Every home is unique, that is why we always recommend seeking expert advice when costing your home improvement project. If you'd like an obligation-free estimate on a roof upgrade for your home, please contact us today and our WoW team will be happy to help.
*The costs outlined in this article have been sourced from Home Advisor's guide to roof installation..