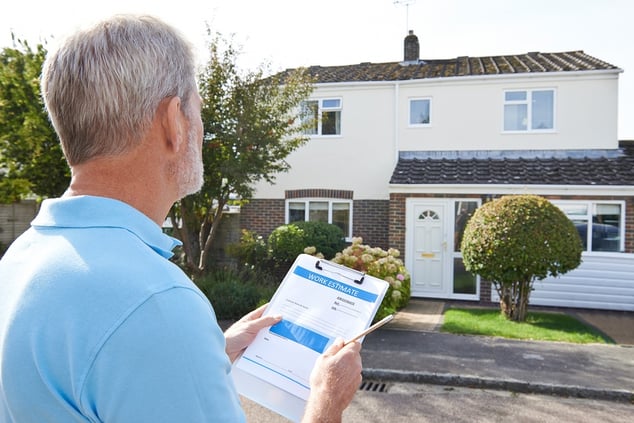 Imagine what your home would look and feel like with a great roof, your dream replacement windows, beautiful new siding or the proper amount of air sealing and insulation. Home improvement projects do more than look great – they can also yield long term energy and cost savings. But they can also be substantial investments, so how do you fit them around your lifestyle and budget?
Luckily, there are several options when it comes to financing your dream upgrade:
Financing option 1: If possible, use cash
Some homeowners feel that it is best to the fund currently in the bank instead of borrowing money to improve your home. If your home improvement project is small enough, it might be wise to wait a few months to save up the funds so you can finance it yourself.
Before deciding whether you should pay outright or finance the project, ask yourself this, "How urgent is my project?"
If you want new cabinets for your kitchen, you could wait a little longer to save up the cash. But if you need to replace a leaky roof, then you should do it sooner rather than later so that additional damage is mitigated, especially if the colder and wetter seasons are approaching.
Of course, every situation is different. Many people find a good balance by funding their projects with a mix of cash and borrowing.
Financing option 2: Use store credit cards
Stores like Home Depot and Lowe's offer credit cards with terms that could be useful for your home improvement projects. Some of them can offer no interest for a specific period of time, while others have great introductory offers. However, many of these cards restrict you to purchases at a single store.
This option should be used for smaller projects, and in situations where you are confident that you can pay your balance in time, otherwise the interest rates will skyrocket. Store credit cards can also be used as part of a mix of options to fund larger projects.
Financing option 3: Use low interest credit cards
If you have a good credit score, then you may qualify for a 0% (or close to 0%) interest credit card. Many financial institutions offer these cards, and the approval process usually does not take too long.
These cards should be used for projects that cost less than $15,000 and you should ensure you pay your balance within the low-interest timeframe (usually 12 to 18 months). Failing to do so could mean being charged very high interest rates.
Financing option 4: Use a home equity line of credit
Also known as HELOC, this line of credit is similar to a credit card, but you have to secure the credit with your home. Failing to pay in time could put your home at risk.
Home equity line of credit does not require as much paperwork as a second mortgage and you can also get a tax deduction on the interest you pay. This is a great option for projects like remodeling in stages, as you only pay interest for what you use.
Financing option 5: Take advantage of WoW's flexible choices
If you need a hand with replacement windows, doors, siding or roofing, why not take advantage of our award-winning service and interest free financing options? Call us today to find out how we can help finish your home improvement project before the cold weather sets in.
Financing option 6: Use a Title I loan
This is a government program that can be very useful for people with little or no equity in their homes. The loan cannot exceed $25,000 for residences inhabited by a single family and, typically, your remodeling project must fit certain requirements. However, in terms of interest, is one of the best choices you have.
Learn more about Title I Home and Property Improvement Loans here