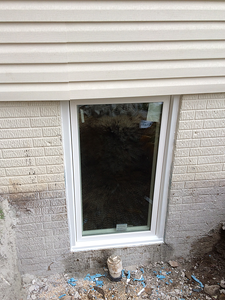 Finishing your basement is one of the best interior home improvement projects your can choose. It increases your overall finished square footage and creates a new living space for your family to enjoy. While planning for this expansion, be sure that your project meets all building codes including an egress window. The list of questions below will help you determine if you need an egress window and the requirements for such a unit.
What is an egress window?
An egress window is a window that that can serve as an emergency exit from any living space below ground.
I am finishing my basement; do I need an egress window?
Because Egress Windows are designed to be used as an exit in an emergency, there are several building codes that cover not only the necessity of the window but also the specific structural requirements of the unit itself. The primary requirement that determines if you need an egress windows is if you include a bedroom in your finished basement design. (For definition, any room that is at least the size of a bedroom and that has a closet could be classified as a bedroom and therefore require an egress window.)
What are the other benefits of an egress window, even if there is no bedroom in the basement?
An egress window is primarily used in a fire in two ways - first, to escape the house and second, to allow firefighters get into the house to rescue anyone trapped in that area of the home.
An egress window greatly increases the available light in a dark basement.
An egress window increases ventilation to help prevent a damp and dingy basement room.
What are the minimum and maximum size requirements of an egress window?
Minimum Width: 20 inches
Minimum Height: 24 inches
Minimum Opening: 5.7 square feet
Maximum Sill Height: 44 inches (above floor)
What other requirements are needed for an egress window?
An egress window must open from the inside without the use of a key or tool.

All grilles, bars and screens on or around the egress window must also open from the inside without the use of a key or tools.

The egress window must be able to fully open. The window sash should not encroach into the 5.7 square foot minimum opening requirement.

Windows on Washington is best known for our namesake window division. We are committed to serving your window needs and your best interests, so we offer a wide variety of window products and options to meet your aesthetic, comfort and energy efficiency goals. Please contact the experts at Windows on Washington today and we will be happy to provide answers to all your replacement window questions and solutions to all your home improvement challenges.