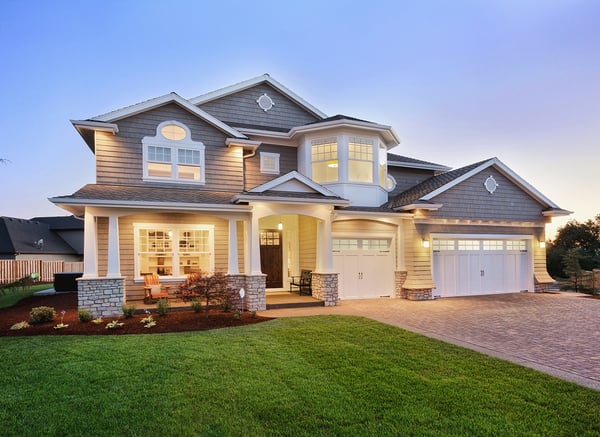 Replacement windows will add value and curb appeal to your home. In addition to window types, you can choose various styles and colors to achieve your desired look. But what are those aesthetic and finishing options?
In our last blog post, we examined various replacement window frame types. But that is not the only choice you have to make. The following options should be considered based on the desired look and overall budget of the replacement window project:
Color
The majority of vinyl windows are available in white, which is widely appreciated for its clean look and the way it "pops" against a variety of home exterior materials such as brick, siding, and stone. Some replacement window manufacturers offer custom exterior and interior colors, but this usually comes with a significant price premium. The cost may vary depending if the chosen color is a standard upgrade color offered by the manufactuer or if the color is truly custom matched to a branded paint color available at a large retailer. If you want a unique look for your home, custom colors can help you reach your goal.
Be advised that at times, Homeowner Association (HOA) requirements and historical designations dictate a specific color for the exterior of the window, making a colored exterior a necessary expense. There are many different exterior and interior color options available for homeowners to meet these requirements.
Note: Depending on the window manufacturer, it is recommended that all colored windows be fitted with full screens. This is done to ensure that no "white" or unpainted areas are visible, as the screen tracks are sometimes not painted or colored to match the custom color frame. Be sure to clarify this with your consultant prior to purchase.
Hardware
The standard hardware that comes with vinyl replacement windows is most often white. Some premium manufacturers offer a variety of reasonably priced hardware upgrades in attractive and fashionable finishes, such as:
brushed nickel
oil rubbed bronze
antique brass
Customizing your window hardware is a relatively low-cost way to add a high-end look and feel to your home.
Obscure Glass
Obscure glass – also known as privacy glass – is frosted or ground. This type of glass transmits light, yet does not allow a view of objects on the other side. This option is relatively affordable and often used in bathrooms where privacy is paramount. If installed in a conventionally small space, you may not want or need to cover these windows with curtains or blinds. While there is an upgrade cost associated with privacy glass, you might in fact be saving money on the window unit as a whole because no further window treatments are needed.
Oriel or Cottage
An oriel or cottage window is a double hung window where the top portion is larger than the bottom portion, or vice versa. Most manufacturers offer this in a 40/60% or 60/40% configuration. This relatively reasonably priced upgrade will add a distinctive look to your home, increase curb appeal and is sometimes required by HOA guidelines.
Simulated Divided Lights
Simulated Divided Lights (SDLs) give an authentic divided glass look without the added complication and expense of many smaller, individually cut pieces of glass. SDL bars are permanently adhered to the outside surface of the glass with a spacer bar between the panes of glass.
SDLs make cleaning the window more difficult, but is often preferable to grid bars located in between individual panes of glass. SDLs are paintable or stainable as well, helping homeowners achieve a custom look. SDLs are often required in historical applications and they come at a significantly higher investment. When considering this option, be sure to ask your window professional if the SDLs are mounted on the portion of the window facing the inside of the home, the outside of the home, or both.
Grids
Grids are a great way to get the look of a divided glass window or SDL without the hefty price increase. An additional benefit of internal grids is that the window is easier to clean, as the grid is between the panes of glass, creating a smooth glass surface.
Most manufacturers offer both flat and contoured internal grids to mimic the pattern of SDLs for a fraction of the cost. It is not uncommon for a HOA to require a specific grid type, color, or pattern, so double check all regulations and requirements to be sure your window selection conforms.
Full Screens
Typically for a small investment, homeowners have the option to upgrade a double hung window from the standard half screen to a full screen. The benefit of a full screen lies mainly with the option for better ventilation by raising the lower sash and lowering the upper sash without losing protection from insects. Some homeowners also prefer the "finished" look of a full screen.