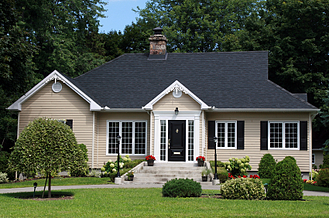 Most of us take having a "roof over our heads" for granted. Therefore, many homeowners are taken by complete surprise when they realize their roof needs to be replaced. It's important, however, that homeowners know the telltale signs of an aging roof so they are prepared for the inevitable process and cost of replacement. Learn the the simple A, B, C's to roof replacement here, so you're not caught off guard.
A
Assessing When Your Roofing Needs Replacement
Check for the following to see if your roof has reached retirement age:
Missing, cracked, torn or bald shingles.

Loose roofing material or flashing and wear around penetrations such as vents, pipes, and chimneys.

Excessive shingle granules in the gutters. These will look like large grains of sand and are a sign of advanced wear.

Buckling from improperly applied felt, wrinkled underlayment, roof deck movement or poor ventilation.

Blistering from moisture in the shingle. You may notice small blisters on the shingles of your roof over time, but if they break open revealing the asphalt the affected shingles should be replaced.

Unsightly black streaking due to excess algae growth.

Leaks of any kind on the roof deck or attic or signs of water damage in the home.
*Please note that not all of these problems necessarily indicate that your roof needs to be replaced.
B
Be Informed
Do your research when it comes to finding the right roof and the right roofing contractor for your home. Find a roof that will meet your home improvement needs as well as your budget and a contractor that will honor both.
Color - Choose a color will not only improve your curb appeal but also meets your HOA guidelines. Be sure that the color of your roof coordinates with the siding, brick and stone of your home as these elements are often permanent in a home design and can affect re-sale value.

Style - Years ago, there was very little choice in the style of roofing material offered at a reasonable price. Now, not only do you have the option of an asphalt roof with amazing in advances in quality and design, but manufacturers have unbelievable choices of metal, clay, tile, slate, wood and steel roofing materials as well.

Durability - When deciding on the functionality and longevity of your roof, you must consider the geographical area in which you live. How much moisture do your receive annually? How much wind and how much hail will the roof be subjected to? These are key determinants in choosing the right roofing material for your project. In addition, there is also a trade off between price and lifespan. Therefore, you will find that materials with a longer usable life and warranty are often more expensive.
C
Contractor Choice
Make sure your find a reputable contractor to install the roof for you. We cannot stress this enough! You can choose the best roofing material money can buy, but if it is not installed properly then it will not perform as expected and you will be throwing that money away. Here are a few key points to remember when choosing a roofing contractor.
Make sure they are licensed, bonded and insured. This bears repeating. Make sure they are licensed, bonded and insured.

Ask for references and check online reviews.

Make sure the contractor carries multiple product lines, so you won't have to compromise on the features that your want.

Secure a fully itemized estimate from your contractor to avoid hidden charges.
*For more information on hiring the right contractor, click here.

Windows on Washington has an dedicated roofing division, offering a wide variety of roofing products and services to include roof inspections, repairs, full replacements and gutters. We are committed to serving your roofing needs and your best interests. If a roof replacement is not necessary, you can be sure that we will never pressure you. Instead, our no-pressure consultants will offer you the appropriate solution(s) to meet your needs. Please contact Windows on Washington today and our experts will be happy to review the A-B-Cs of roof replacement and provide answers to all your home improvement questions.