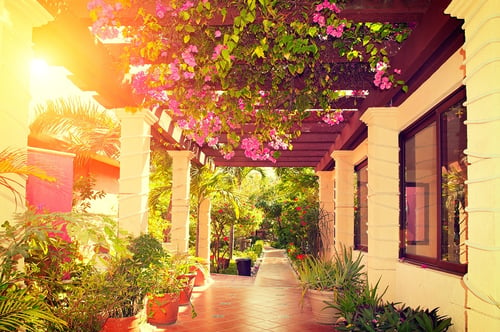 "And so with the sunshine and the great bursts of leaves growing on the trees, just as things grow in fast movies, I had that familiar conviction that life was beginning over again with the summer." ― F. Scott Fitzgerald, The Great Gatsby
While we may not be able to put it quite so eloquently, summer is just around the corner — and we are excited! As we start spending more time outside and make the most of the longer days, now is the time to start preparing your house for summer.
Here are a few ideas to get your summer home improvement schedule started:
Painting
If you have been toying with the idea of adding a fresh coat of paint to your home's exterior, or experimenting with an internal feature wall - summer is the time to give it a go according to Shannon Lee from the Improvement Centre.
"Whether you are painting inside or outside, summer is the best time to get the job done," Lee says. "When painting outside, summer means you don't have to deal with spring storms or winter snows. When you are doing the work inside, you have the advantage of keeping all the windows wide open for the best ventilation and drying. Small jobs can be a do-it-yourself venture, while large projects call for a contractor."
Landscaping
For many homeowners, summer is the season we spend most of our time in the garden, sprucing up our garden beds, planting vegetables and tackling those pesky weeds. Forbes Contributor Lindsay Lambert Day says this is a great strategy. The warmer weather and longer days are conducive to outside work, and with many plant species reaching full bloom, summer is the season when you get the most reward for your efforts.
"From planting petunias to installing a flagstone path to your front door, a little landscaping can go a long way when it comes to beautifying your property," she says. "For the most part, small-scale tasks—mulching beds, shrub pruning, and weeding—can easily be successful DIY projects."
Gutter Maintenance
As we reach the final stretch of Spring, there's a good chance leaves, branches and other debris have accumulated in your gutters. And while it may be the least glamorous of home improvement jobs, gutter clearing is one of the most important. Without regular checking, clogged or poorly flowing gutters can lead to roof leaks, foundation leaks, rotted framing and mold. Clearing out those gutters and pruning the trees and vegetation surrounding your home this summer is a great way to avoid costly problems in the long run. Read WoW's 4 Key Elements of Successful Gutter Maintenance
Repairing Decks and Patios
Summer is synonymous with barbecues, sun baking and entertaining family and friends. With that in mind, Real Estate expert Caroline Gosselin says that maximising your outdoor space can be the perfect way to enjoy the season - and add value to your home.
"This time of year I am all about doing things that keep you outside and enjoying the weather," Gosselin says. "Fixing up a nice a backyard patio can be one of the best DIY home improvement projects. It allows you to have your own little relaxing oasis right in your backyard. It is great for entertaining, and upon resale, it makes an impact to buyers who can see themselves enjoying that space."
Roofing and Siding
While summer is a great time to tackle those DIY jobs you've been putting off, it is also a great time to think about larger remodelling projects. After another harsh winter, it is common for homes to start showing signs of wear and tear in the bright summer sunshine.
Jon Nunan from HomeAdvisor says that summer is the ideal time to think about roofing and siding upgrades. The consistent weather means you do not have to contend with rain delays, and the longer days mean contractors can deliver bigger projects in quicker time.
"It's a tough job to say the least, and the appearance of many homes can easily be improved by replacing existing siding that has begun to show its age. Some sidings offer not only better protection and improved looks, but increased property value, too."
"When it comes to outdoor remodelling projects, putting on a new roof is probably the most daunting. As the most important part of your home's weatherproofing and insulation system, a good roof can save on heating and cooling bills; a bad roof installation, on the other hand, can lead to all kinds of headaches and repair bills down the road."