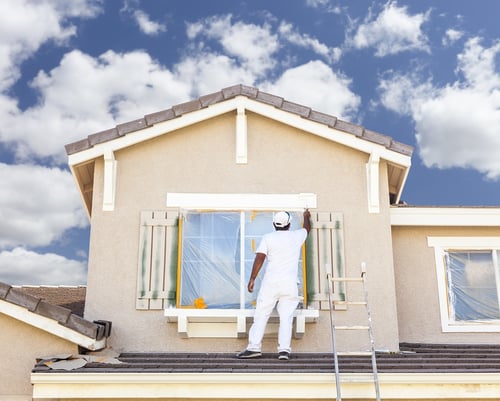 Summer is just days away and homeowners across the US will be finalizing plans for upgrades to their homes.

However, without proper planning, dreams of a summer home makeover can quickly turn into a nightmare. Scheduling conflicts, budget pressures and over-committing are common mistakes that can delay projects and impact your intended timeline. But, there are simple steps you can take to keep your summer project on track.
Here are four things to consider if you are planning on completing a home improvement project this summer.
Book Your Contractors Early
When it comes to summer-time home improvement projects, the early bird gets the worm — and the builder, tiler and plumber. Summer is a notoriously hectic time for contractors across all trades but scheduling your contractors early means you stand the best chance of winning their services and getting into their schedule early, which is crucial to keeping your summer home improvement project on track.
Get Appy
Home improvement projects usually conjure images of chaos. Measurements scrawled on scraps of paper. Floor plans hidden under piles of building material. And where did you leave that pencil and level tool? For many Americans, this was the DIY reality. Thankfully however, smartphones mean the days of chaotic home improvement sites are numbered.
Everybody from home improvement professionals to DIY remodellers can benefit from a range of new apps on the marketplace that do everything from taking measurements to helping choose paint color. If you are working on a tight timeframe this summer, check out this guide from DigitalTrends , which ranks some of the best home improvement apps available today.
Manage Timelines
Scheduling conflicts and delays are an inevitable part of any sizeable home improvement project so allowing enough time for each component is a key part of hitting your home improvement deadlines.
Home Guides Contributor Glenda Taylor says that planning ahead is crucial to organizing workable timelines.
"During the bid process, have each sub estimate how much time he needs to complete his job. Rushing a sub isn't a good idea. If the heat-and-air contractor wants a week to run the duct work, don't ask him to do it in three days," she says.
"Many subcontractors can't start their part of the project until another subcontractor completes his job. If possible, organize a subcontractor meeting before the project starts to allow the subs to interact with one another and draw up a timeline calendar for each stage of the project."
Prepare A Budget And Allow For Contingencies
Nothing puts the brakes on a home improvement project quite so dramatically as running out of funds. Stretching your budget to breaking point is the fastest way to end up with a house-full of unfinished projects.
Houzz Contributor Jeffrey Veffer emphasises the importance of budgeting and allowing contingencies that allow you to accommodate unforseen expenses.
"There are situations where homeowners generally don't know what a new custom home or addition will cost, but a key part of the process is considering how much you would be comfortable spending on the project," he says. "Obviously spending $50,000 will produce a dramatically different result than if you spent $500,000. And what you spend will be influenced by a wide variety of factors, including neighborhood, type of project and level of finishes."
"After you create your budget, subtract 20 percent. Construction being what it is, there are always situations that arise that will increase the cost, and those are hard to foresee at the beginning of construction. It's a very complicated process involving many people and a lot of communication, so there usually are things that happen that will eat into that 20 percent contingency."
Need to book a contractor for your window, roofing, siding or insulation upgrades? Contact us now for a free consultation.