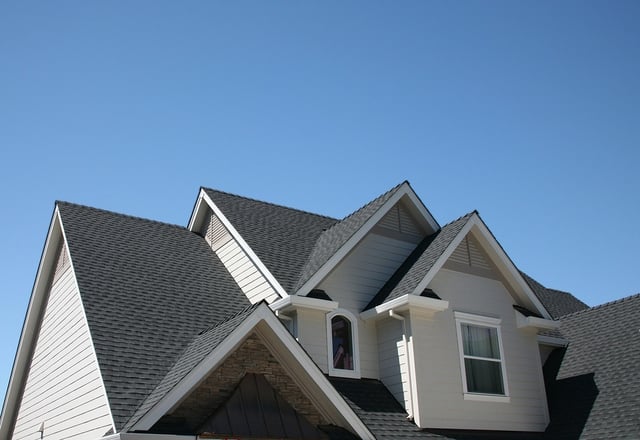 A new roof system is a sizable investment in your home. There are many individuals and companies out there offering roofing services, but only a fraction of them are qualified and capable of giving you the products and services you and your home deserve. Whether you choose the wrong contractor, improper techniques or inadequate materials, roofing mistakes may be costly and can compromise the integrity of your home.
When the time comes to select a new roof, some important factors to consider include the type of material, style, color and investment. There are various materials available and they offer varying benefits like ENERGY STAR ratings, esthetic appeal, cost, life span and more. A knowledgeable roofing contractor can help you understand the benefits of the different materials and weigh your options to find the best fit for your individual taste, budget and home.
Return on Investment
There are many benefits to a new roofing system. Some homeowners balk at the cost of a roof, especially if they are planning on selling their home. Yes, a roof is a significant investment, but like any sound investment, there are returns. Because of the added value of a major home improvement like a roof, you can often expect a percentage of your investment back against your expenditure. We call this the return on investment, or ROI. A professionally installed roof with a strong warranty is a great feature and provides added value when selling your home. In today's competitive real estate market, features that add value and curb appeal can make all of the difference when it comes to listing price, selling price and how quickly a home is sold.
Energy Savings
In addition to your return on investment, when considering a new roofing system there are a number of other factors to take into account. A professionally installed roofing system from a trusted manufacturer can help you significantly reduce your energy costs and make your home more comfortable. Some of today's quality roofing systems have increased insulating values. Likewise, "cool" roofing options from manufacturers like Englert, Certainteed Solaris, Firestone, Decra and Classic Metal Roofing Systems can increase your heat deflection and save you even more money in energy costs.
Comfort Level
One of the most important things your roof does is keep the temperatures within your home stable and comfortable. An old roof is far less likely to do its job to keep warm air in during colder winter months and keep your home cool during the warmer summer months. This can increase your energy cost significantly in just one season, not to mention the compounding long-term costs.
Choose a Qualified Roofing Contractor
All roofing contractors are not alike. It is important to prequalify roofing contractors to get the job done right the first time. Doing a little work upfront will save you hours of distress and potentially thousands of dollars later.
Carbon Monoxide Cautions
If you do not already own a carbon monoxide detector, you should purchase one. If you already have one be sure to check the batteries and ensure it is operational. A working carbon monoxide detector is a critical part of a safe roofing installation. During the installation process a professional crew will take every precaution available, but it is still possible for exhaust vents to shift or dislodge which could in turn cause a carbon monoxide leak. It is critical that you the homeowner conduct a daily visual inspection of these vents since only you have full access to your home during installation.
Vibrations & Protecting Your Home's Interior
The process of installing a new roof means people on your roof, which can in turn cause significant vibrations. You will hear and likely feel your professional installers on the roof of your home removing your old roof, moving materials around, hammering, sawing and the like. It is recommended that you remove loose or breakable items from your home's walls and shelves to keep them from breaking or becoming damaged and protect you and your family from any falling objects. Items mounted to your ceiling, like chandeliers and ceiling fans can break and possibly cause cracks to form around them. It is advisable to take down whatever items you can. If you own a multi-story home, ask your contractor whether items hung from your first floor ceilings may present a problem.
Exterior Home Protection
An experienced contractor can avoid any major damage and minimize any minor damage to the exterior of your home. A quality roofing contractor will take precautions like covering heating and cooling units, covering windows and designating a debris area to prevent damage to your yard. Likewise, a good installer will take steps to prevent gutter damage including using attachments to prevent their ladders from resting on your home's gutters causing dents and scratches. An expert roofing installer knows how to avoid problems before they begin with best practices that most sub-standard contractors ignore.
Attic Entrances and Stored Items
There is no perfect solution to keep the items you store in your attic space pristine during the installation of a new roof. Although your roofing installers will clean debris from the attic and take care with your things, there is no sure fire way to keep all dust and debris off stored items. Items that would be harmed by dust or debris or are substantially fragile should be removed during installation. Likewise, after your installation, open your attic entrance carefully in case any dust or debris remains.
Download Your Free, Comprehensive Guide to Roofing
Windows on Washington offers our Comprehensive Guide to Roofing, designed to guide you through the process, from deciding if it is time to replace your roof to conducting a final inspection of your newly installed roof. We have included a number of handy checklists to make the process as easy and straightforward as possible. Our goal is to help provide consumers with the information they need to make informed decisions about what is likely their most valuable asset, their home.