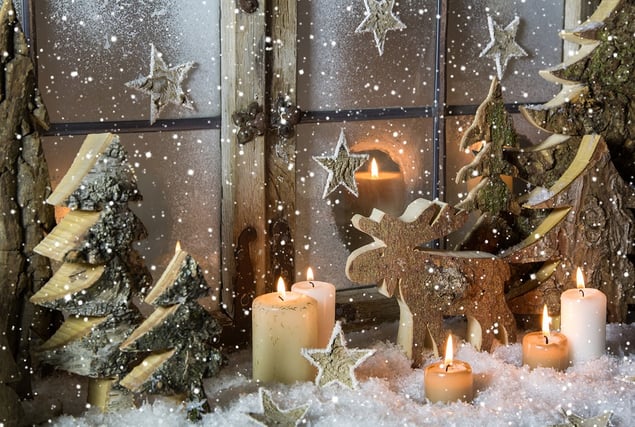 'Tis the season to be jolly…and to make your home look festive.
Christmas decorating has become a seasonal tradition for many US homeowners. From lights to inflatable Santas to nativity scenes, homeowners love to share their Christmas spirit with some creative flair. Yet did you know Christmas decorating is an age-old tradition?
"The idea of decorating houses for Christmas is ancient," Interior Design expert Shane Connolly says. "It harks back to midwinter celebrations such as the ancient Roman Saturnalia or the old Germanic 'Yule, when greenery was brought inside to decorate the home."
"These were all celebrations of hope and light in the darkness of winter. Bringing ivy, mistletoe and other greenery into the house, and having a meal with family and friends, was a simple reminder that spring was around the corner and they might just live to see it. Hope is needed in winter when the long dark nights, short cold days and, until recently, scarcity of food made it a particularly gloomy time of year."
If you are looking to top off your Christmas display with some ideas that will wow children and adults alike, then look no further – we have you covered! Check out our ideas ranging from simple, but effective to complex and DIY.
Add Creative Wreaths To Your Windows
Re-interpret the classic fir-tree wreath by adding your favorite decorations to it. For an all-adults home, you can even try making one out of wine corks. Wreaths are great for doors, too, especially if you're very proud of your DIY project.
Re-create Your Favorite Scene
Use white tree silhouettes, a sleigh and even Santa (all cut out of paper) or choose the characters you like best. You can play with colors or make them all out of white paper and place them at the window of a dimly lit room for a touch of mystery.
3D Printing
You don't have to spend a fortune on figurines; you can have everything 3D printed. From the nativity scene to a jolly Santa with plenty of gifts for everyone, you can re-create anything you want at your window. For an added touch of creativity, you could have your scene span over multiple windows.
Frosty Windows
A spray with white paint can get you a long way. You can paint snowflakes on your windows or simply create the illusion that your window is frozen. Simply spray the entire window, except for a small circle in the middle – it is that easy!
It's Snowing!
What is better than a white Christmas? If you don't want to count solely on the whimsical weather for your snow, why not take matters into your own hands. Here is what you can do:
get cotton balls and fishing line
thread the cotton balls on the fishing line
hang them near the window
Make sure to create cotton balls of different dimensions for a realistic look and you are good to go.
Get Into Paper Engineering
Don't worry; it is much less complicated than it sounds. You just need a bit of imagination and some scissors. You can cut any shape you want out of paper (flowers, Christmas globes, tiny snowmen) and glue them in a corner of the window.
Place The Christmas Tree strategically
If you have enough room near the window, why not place the Christmas tree there? This way, everyone who passes by your home can see a bit of your magical interiors. Plus, if you leave it on during the night, it will be a great guiding light for Santa.