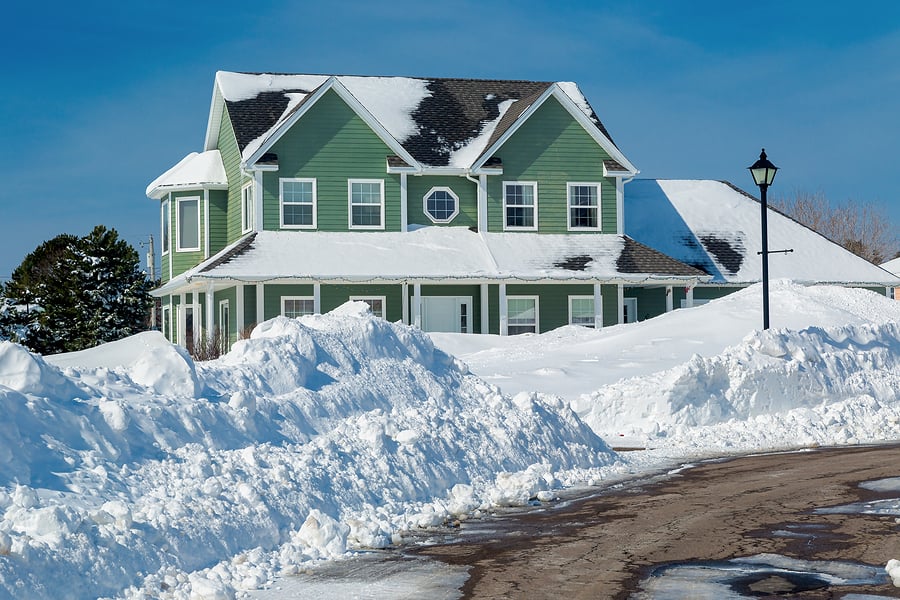 With January and the new year fast approaching, there is no better time to give your home some TLC. And, there is perhaps no better way to care for your home than by replacing your siding. Siding does not only enhance the curb appeal of your home, but it also increases its overall performance and resale value. Siding is commonly overlooked when it comes to home improvement projects, yet we firmly believe it is one of the best overall investments to your home you can make. If you are looking to improve your home in time for a fresh new year, look no further than replacing your siding. This article has been specifically written for Maryland homeowners in mind, and covers the best siding for homes in the Maryland region.
Why is Siding Important?
Why is siding so important to the overall functionality and value of your home? While siding allows homeowners to show off their unique style, it also has a more important job, which is protecting the interior structure of the home from the elements. Siding is what protects the inside of your home from rain, humidity, moisture, insects and pests. It is for this very reason that properly maintaining your home's siding is extremely important.
Different Siding Materials
Siding comes in a variety of materials, with each material having their own price point, advantages and disadvantages. The most common siding materials include: insulated vinyl siding, wood siding, aluminum siding, brick or stone siding and more.
Which Siding is Best for Homes in Maryland?
Due to the fact Maryland experiences a relatively mild climate all year round, most siding materials are a sound choice. However, vinyl siding and reinforced vinyl siding is arguably the best choice for Maryland homeowners. Vinyl siding panels typically do not split, peel or rot, which prevents the inside of your home from being exposed to moisture that can cause mold or fungus to grow and damage the structure of your home. Additionally, vinyl siding is exceptionally durable, rigid and wind resistant. And, in terms of style and aesthetics, vinyl siding comes in a variety of colors, and will not chip or fade like other siding materials. For even stronger siding, Maryland homeowners can opt for reinforced vinyl siding, which offers the added protection of great insulation, which can help reduce your utility bills and keep your home temperate throughout the year. Reinforced vinyl siding also makes your home quieter by reducing noise from outside.
Is Vinyl Siding Really the Best Choice for Homes in Maryland?
Vinyl siding is an excellent choice for homes in Maryland. While the Maryland region does experience overall mild weather, it is susceptible to the occasional bout of extreme weather. Vinyl is incredibly durable and can withstand inclement weather, which is what makes it a great choice for Maryland homes. Combine this with its great ROI, durability and style choices, vinyl siding truly is one of the best siding materials for homes in Maryland.
Finding the Right Contractor to Replace or Repair Your Siding
Now that we know which siding is the best for homes in Maryland, it is time to find the right contractor to replace your siding. The right contractor can be the difference between an incredible home improvement experience or a terrible one. Here are few tips for finding the right contractor to replace your siding, so you can feel confident your home is receiving the best work and care.
Check the Business is Legitimate
It is important you check your contractor is running a legitimate business. There are a few ways you can check, yet the easiest way is by heading online to the Better Business Bureau (BBB) where you can verify the contractor or business' legitimacy. You can also see if there have been any complaints filed against the business. Also search for a copy of the business license and the state contractor board license.
Read Reviews
When it comes to finding the right siding contractor, Google is your friend. A quick Google search is one of the best ways to learn about the contractor you are considering hiring. It is wise to read reviews from a variety of websites to get an accurate representation of the company. Angie's List, Yelp, Houzz, Home Advisor or Customer Lobby are credible websites where you can read reviews about many home improvement contractors and businesses in the Maryland area.
Ask for References
Alongside reading online reviews, it is also a good idea to ask for references. The best and most trustworthy contractors will not hesitate to provide you with a list of names and numbers of people they have worked with in the past, who will be able to provide you with an honest reference and review of the contractor's work.