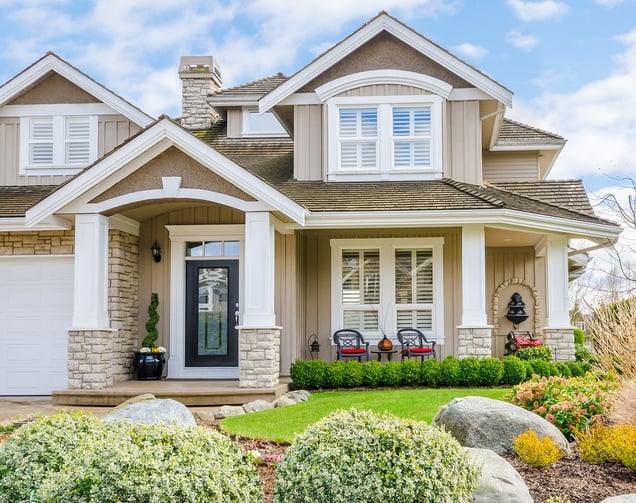 Replacing your windows is one of the best investments you can make in your home. Beautiful new windows increase the comfort, style, and curb appeal of your home, improve energy efficiency and can be a great value-add if you're thinking about putting your home on the market.
From unprecedented versatility to long-term financial savings, here are just some of the benefits of new replacement windows:
You Can Achieve the Look You Want
Modern window finishings are exceptionally versatile and can be adapted to suit your style and taste. Frames are available in a large range of colors and wood veneer finishes, which give the appearance of a more expensive wood frame without the cost or the ongoing maintenance.
They Help Air Seal Your Home
Air leakage is one of the biggest factors impacting the energy efficiency and utility expenses of your home, and gaps around your doors and windows are notorious for allowing conditioned air to escape from your house. With an expansion rate that resists temperature fluctuations, replacement windows can help ensure that gaps won't suddenly appear between the window and frame as the seasons go by.
They Come With Manufacturer Warranties
High quality replacement windows will come with a Manufacturer's Warranty, which is a guarantee from the service provider that their product will achieve a certain standard. Should the product fall short of that standard or promise, the customer has a sound avenue to seek complementary repairs or replacement. A warranty gives a customer peace of mind that should problems with their purchased products arise, the supplier will:
Repair or replace goods (or part of them)
Resupply or fix a problem with services (or part of them)
Provide compensation to the consumer
The Okna product line, for example, is covered by a lifetime warranty, as is Windows on Washington's labor. We use best-in-class products to install the window so that you will have a lifetime of trouble free operation and superb performance, including:
Highly skilled installers
Heavy gauge coil stock
Premium Sealants
Low-expansion foam (This is an absolute must as it's the proper way to prevent air leaking by sealing the new replacement window to the home.)
Replacement windows can give you long-term peace of mind that you have invested in a quality product, and can seek prompt support should anything not meet specifications.
They Boost The Energy Efficiency Of Your Home - And Reduce Your Utility Bills
Windows are an essential part of every home, providing light, warmth and ventilation. But they also play a major part in a home's energy efficiency.
Windows, especially older single pane varieties, become a vehicle for temperature transfer; the exchange of thermal energy between environments. In simple terms, it means that during winter older style windows allow too much heat to escape – up to 40%. Americans spend $40 billion annually to air condition their homes and offices, so any energy efficiency improvements you can make will reduce utility bills in the long run.
Thankfully, the technology behind windows and window frames has become much more sophisticated in recent years. Homeowners have more choice now than at any point in history, and stand to benefit from huge cost savings from advanced technology and sleek design.
Today, windows come in a massive array of varieties. Double and triple pane glass offers unprecedented energy savings, while high-tech finishes and coatings prevent temperature transfer, saving you on the ongoing costs of utility bills.
They Offer Significant Return on Investment
Remodelling your home has financial and lifestyle benefits that can last for years. Though one of the biggest barriers to people attempting these important home improvement projects is the cost.
However, looking purely at the cost of home improvements is looking at only half of the equation. When considering a home improvement project, you should also think about how certain upgrades increase the value of your home and its curb appeal, offsetting much or most of the initial cost.
A recent report from the National Association of Realtors (NAR) revealed the home improvement projects that delivered the best return on investment (ROI). For example, new vinyl windows delivered an 80% ROI, showing that much of the initial outlay is recouped in the increased value of your home.
You Can Save On Your Taxes
US homeowners are being offered tax breaks to make energy efficient improvements to their homes — including roofing — with the IRS officially extending the non-business energy property credit through to December 31, 2016.
The non-business energy property tax credit provides a 30% credit for installing qualified energy efficiency improvements to your home, and provides credits in various amounts for costs relating to residential energy property expenses. Labor costs for onsite preparation, assembly, or original installation are included as eligible expenses. Find out how to take advantage of the Tax Credit here.