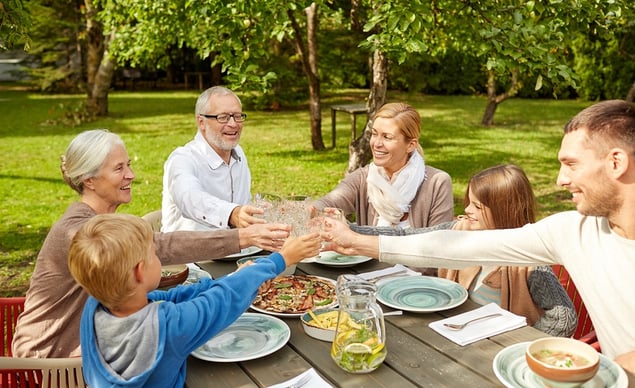 Every May 15, the world celebrates International Day of Families. The Day was first proclaimed by the UN General Assembly in 1993. It was created to echo the significance the international community attaches to families. This important day is the perfect time to promote awareness of familial issues and to increase the knowledge of the social, economic and demographic issues affecting families across the globe.
In most countries, International Day of Families is an opportunity for families to come together and think about the different areas of interest and importance to families. It is a time to be with loved ones and appreciate the family you have, both immediate and extended.
This year's International Day of Families is themed around the role families have in promoting education and the holistic well-being of their family members. At Windows on Washington, we believe family is more than the one you are born into, it also includes your friends, extended relatives and your pets. Family to us is with whom you feel the happiest and safest.
In honor of this important day, we have created a list of 5 bonding activities you can do around the house.
1. Plant a family garden
Enjoy a day outside in the sun and plant a family garden. Kids are spending more and more time indoors these days, so encourage your family to bond together by digging a patch to pant flowers or vegetables in the backyard. Teach your children how to create, nurture and sustain life – a truly valuable thing for all kids to learn. They will enjoy getting their hands dirty while also learning how to be patient and persevere, through tasks such as keeping the garden weed free, watered and healthy. It is never too late to teach your children the joys of creating a beautiful garden or how to grow their own food.
2. Create a family meal together
Some say home is where the heart is, and nothing says home more than the family kitchen. It is the place where your family can come together to devour delicious food over good conversation. Studies have shown that kids who eat together with their families are even less likely to develop depression or an eating disorder. Also, having regular conversations at meal time is linked with better communication skills between kids and parents, as well as a boost in confidence. So use this day to get creative with your kids and forge memories to last a lifetime. Here are some everyday recipes that are family-friendly to make.
3. Create family stories
The stories of your family are unique – no one else in the world has the same history. Retelling past and present family stories with your kids not only brings the family together, but it creates a timeless bridge between generations. Spend today sitting in the living room with your family and tell as many stories about your family history as you can. The richer and more details the better! Not only will your kids be fascinated to hear about their great-grandparents and beyond, but they will also have cherished memories they will never forget. There are so many benefits to sharing family stories that go beyond bonding. If you really want to help your children remember the stories, Saving Memories Forever is a smartphone app that lets you record audio stories and create video clips by scanning accompanying pictures.
4. Backyard camping
Another great way to get the entire family outdoors is to plan a fun night camping in the backyard. While vacations are always a good bonding experience, you may be surprised by how excited your children get at the prospect of camping in their own backyard. Backyard camping is a fun family-friendly experience for all – even your pets! All you need is a tent, some blankets, pillows, snacks and you are good to go. Take a look at this backyard camping checklist for more inspiration.
5. Create a home-made obstacle course
If you are feeling brave, why not create a home-made obstacle course? Throw together some chairs for jumping over and crawling under, move the lounge chairs around to create obstacles, create tunnels out of rugs and you are good to go. Kids love it when mom and dad jump in on the action, as they normally do not get to see you acting silly and releasing your inner child! Or, if you do not necessarily want the kids running around inside the house, you can always create a fun backyard obstacle course to complete together.
We hope this article as helped inspire some fun activities you can do with your loved ones this International Day of Families.