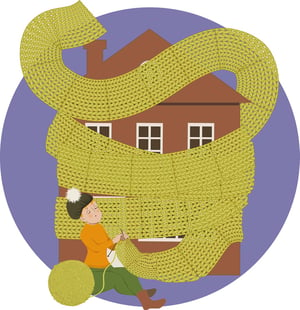 With the topic of the environment at the forefront of many peoples' minds, today more than ever, homeowners are looking for ways to use energy more efficiently in their homes and reduce utility bills. Did you know heating and cooling accounts for about 48% of the energy use in a typical U.S. home, making it the largest energy expense for most homes? However, there are ways you can reduce your heating costs and reduce your environmental footprint. How? Through proper and adequate insulation. The purpose of this article is to provide you with the information you need to know about insulating your Maryland home, and why now is the best time to do it.
Why should you insulate your home in Maryland?
As we mentioned before, heating and cooling account for almost half of the average U.S. home's energy use. Furthermore, inadequate insulation is one of the leading causes of energy waste in most homes. By insulating your home, you will:
Help keep a uniform temperature throughout your home
Keep the heat in, and the cold out, of your home during the winter
Reduce your energy bills
Lower your home's carbon emissions
How does hot and cold air get into a house?
Heat naturally flows from a place that is warm to a cooler space. In winter, heat moves to wherever there is a difference in temperature. For example, heat will move to unheated attics, garages, basements and out of your house – exactly where you do not want it to go. And in summer, heat moves from the outside in.
How does insulation work?
Insulation works to stop the natural transfer of heat. In winter, it stops the cold air from outside penetrating the inside of your house. And, during summer, insulation helps trap cool, conditioned air inside the home, while resisting the heat from outside. Insulation is one of the most vital features of any energy efficient home.
Insulation reduces your heating bill in winter by providing an effective resistance to the flow of heat. It helps ensure the heat stays inside the house and in the spaces you want it to be.
What are the different types of insulation?
When it comes to insulating your Maryland home, you can choose from many types of insulation. The material you choose will depend on which part of the house you are insulating, and if you have easy access to the space. Here are a few of the main materials you can choose from.
Blanket: Batt and Roll Insulation
Blanket insulation is one of the most common and widely available types of insulation. It comes in the form of either batts or rolls. It is made up of flexible fibers – the most common fiber being fiberglass. However, there are also batts and rolls that consist of mineral (rock and slag) wool, plastic fibers, and natural fibers, such as cotton and sheep wool.
Rigid Foam Insulation
Foam boards, which are rigid panels of insulation, can be used to insulate almost any part of your home. It is particularly effective for exterior wall sheathing, interior sheathing for basements and special applications like attic hatches. Foam insulation R-values range from R-4 to R-6.5 per inch of thickness, which is almost 2 times more than other insulating materials that have the same or a similar thickness. The most common types of materials used in making rigid foam insulation include; polystyrene, polyisocyanurate and polyurethane.
Loose-Fill Insulation
Loose-fill insulation is another popular insulation choice. Loose-fill insulation is commonly made from small particles of fiber, foam or other kinds of materials such as cellulose, fiberglass, and mineral (rock or slag) wool. These materials are manufactured from recycled waste materials.
The small particles form an insulation material that can mold to any space without altering the structure or finish of it. This makes it a good option for locations where it would be difficult to install other types of insulation.