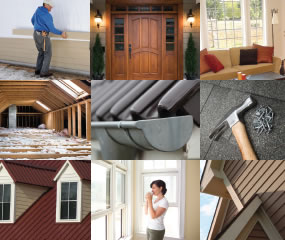 It's a great time for home improvement, especially if you live in the Northern Virginia, Washington, DC and Suburban Maryland area. Remodeling Magazine has released their Cost vs Value report for 2013. This report describes many different home improvement projects as well as the projected return on investment (ROI) if and when you sell the house. Just remember - while these numbers are very strong, they do not take into account the immediate energy savings you will gain, so the actual ROI can be above what is listed.

As of 2013, the average ROI for home improvement projects increased by 2.9% nationwide and saw increases in each measured category. The Metro DC area had some of the largest growth in ROI as compared to other cities, and was above the national average in every category. In addition, the highest gains on ROI were from replacement projects rather than renovating or addition projects at almost 8% growth.

We've highlighted a few examples of replacement projects that net the highest ROI for the year.

Custom Window Replacement
Last year, custom window replacement carried a ROI of up to 74.3% for the Southern Atlantic Region. In 2013, there was a slight increase to as much as 74.7%. However, the bigger news for the Metro DC area is that the ROI is well above the national average at 95.1%. That means that homeowners in the Metro DC area are not only apt to get almost every dollar spent on replacement windows back when their home is sold, they will reap immediate and continuous cost savings through lower energy bills while they live in the home. Couple this with the increased comfort and improved curb appeal that new windows bring, and it's a win-win.

Entry Door Replacement
A new door can make a great impression on a guest or potential buyer, dramatically impacts curb appeal and increases the value of your home. Once again, our immediate area saw a major increase on the ROI when it comes to steel doors with a ROI of 106.2%. Fiberglass entry doors are also netting up to an 85% ROI. Many entry doors are also Energy Star Qualified, so utility dollars literally stop going out the front door while giving an fresh, updated look to the front of your home.

Roof Replacement
When a home is being sold, the number one item that a home inspector will assess is the roof. Buyers want to ensure that they are not going to have a large outlay of cash for a new roof after they move in. With that being said, putting a new roof on your home will not only net you a ROI of up to 70.4% but it's a feature that will make a lasting impression on potential buyers and can differentiate your home. So, maybe it's time to replace your roof to enjoy a few years of increased curb appeal before you sell your home.

Siding Replacement
Last year siding ranked as one of the highest ROI of all home improvement projects - and this year is no different. Last year, the projected ROI was 89% and this year it increased up to 96%. There are several types of siding available - vinyl siding, foam back siding and cement fiber siding - all can give a major boost to curb appeal. In addition, carefully selected siding can improve the energy efficiency of the home, resulting in increased comfort and energy savings which drive your ROI even higher.

Garage Door Replacement
Not many people think of replacing garage doors to add value to a home. However, when a homeowner invests in new garage doors, guests and potential buyers have the impression that the home is well cared for. This impression gives potential buyers confidence that the same care was taken throughout the home. In 2013, garage doors can net up to 96.9% ROI for our local area.

At Windows on Washington, we provide solutions to all your exterior home improvement challenges. Our experts are well trained in custom replacement windows, steel and fiberglass exterior doors, siding, roofing and garage doors. Contact us today to see how Windows on Washington can make your home more beautiful, comfortable and energy efficient.