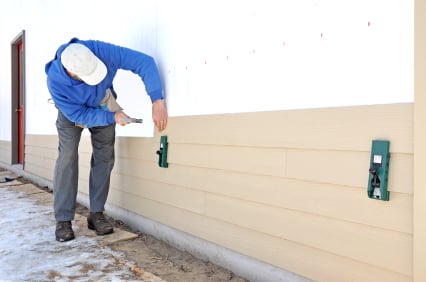 Siding is the cladding around a home and can come in many different types such as stone, vinyl, and wood, among others. Its' main purpose is to provide a protective barrier around the home and to add aesthetic value. When deciding which siding to choose, keep in mind its' ability to resist water and humidity, provide increased energy efficiency, versatility and durability. The key to finding the right solution for your siding needs is understanding the many types of siding that are available and the advantages and disadvantages of each.

Wood Siding
Wood siding is just as it sounds - siding that is made out of wooden planks and adhered to the side of your home.
Advantages:
Green – wood is the greenest of all the siding choices as it is made solely of wood.
Quick installation – it is relatively easy to install.
Aesthetically – it can be stained or painted to any color that you choose.
Disadvantages:
Expensive – more expensive than vinyl.
Low insulative properties – wood siding is one of the least insulative of all of the siding types.
Easily damaged – this is the primary reason people change their siding from wood to another type. Wood siding can be damaged and/or show signs of rot from storms, moisture, humidity and insects.
High maintenance – wood siding requires homeowners to frequently paint, repair and add weather-stripping.

Vinyl Siding
Vinyl Siding has been around since the 1960's to combat the disadvantages of wood and stone siding. It is now the most commonly used type of siding due to many advances in manufacturing technology. Vinyl can be more energy efficient than wood siding. The R Value (energy efficiency value) will help differentiate the many brands and styles.
Advantages:

Inexpensive – it is the least expensive of siding choices for materials and installation.
Versatile – it comes in many different colors and styles such as plank, shake, and shingles. It can also mimic wood, stone, and slate.
Warranty – it can come with up to a lifetime warranty.
Limited maintenance – it is easy to clean with soap and water.
Limited damage – it is not susceptible to insects or damage from excess moisture.
Disadvantages:
Expensive to repair – if there is any damage to a section of siding, a repair will require color matching which may be extremely difficult.
Flammable.
Color change – you cannot paint most vinyl siding.

Foam Backed Vinyl Siding
Foam backed siding is a newer product with foam core backing which can be bonded or not bonded to the actual siding. This type of siding increases the energy efficiency of your home because the foam core is a barrier of insulation preventing heat loss where the studs of your walls contact the outer wall of the home.
Advantages:

Increased energy efficiency.
Polished finish – because the foam board is installed first, the vinyl siding may lay flatter than without the board, creating straighter lines and a smooth surface.
Limited maintenance – easily maintained with soap and water.
Reduces outside noise.
Versatile – many design choices and color.
Limited damage – from moisture and insects.
Disadvantages:
Increased cost - over vinyl siding.
Expensive repair – the entire panel requires replacement and color matching.
Color change – you cannot paint most vinyl siding.

Cement Fiber Siding
Cement fiber siding is an extremely durable type of siding that is made from cement, sand and wood fibers. It is much thicker than regular vinyl siding and has the ability to be molded in many different shapes and textures, such as wood.
Advantages:

Increased energy efficiency – due to the thickness of the material over vinyl.
Durable - water and insect resistant.
Versatile – can be manufactured into numerous textures (such as wood) and colors. It also can be painted if you wish to change the color of your home years later.
Warranty – generally warranted for 25-30 years.
Non-flammable.
Disadvantage:
Expense – Cement fiber is more expensive than vinyl or foam back vinyl but less expensive than wood.
Difficult installation – due to the nature of the product, the installation is more difficult which can increase labor costs.
Maintenance – needs to be repainted every 15-20 years.

Engineered Wood Siding
Engineered wood siding is the latest advancement in siding products. If is comprised of wood products combined with bonding agents and looks the most like wood without the disadvantages of wood.
Advantages:

Aesthetics – gives you the look and feel of wood with the ability to paint.
Insect resistant.
Warranty - 50 years.
Greenest of all manufactured siding choices – because it is made from recycled wood product.
Disadvantages:
Expensive
Maintenance – if not maintained properly then it is susceptible moisture related problems.
Poor installation – a qualified, manufacturer certified installer should be engaged for installation, as improper techniques can lead to moisture related problems.
With so many siding options available to homeowners, it is important to weigh the options of cost, durability, versatility and energy efficiency before making the right decision for your home. Homeowners in the Northern Virginia, Maryland and Washington, DC area can trust their home improvement projects to the experts at Windows on Washington. Do you want to improve the energy efficiency, comfort and beauty of your home with new siding? Call the Experts at Windows on Washington today for solutions to all your home improvement challenges.