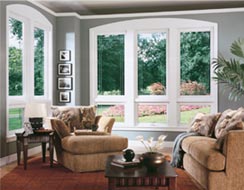 Did you know that up to 10 to 25 percent of your central heat is can be lost through the windows in your home? There are several things you can do as a homeowner to help prevent this heat loss in the winter. Below you will find ways to help the energy efficiency of your current windows and how to maximize energy efficiency when looking to buy new replacement windows.


Current Windows - when looking how to maximize energy efficiency with your current windows, try some of these tips.

Installing insulated storm windows to your existing windows can help to reduce heat loss up to 25 to 50 percent, depending on the configuration of your current windows (i.e. single vs. triple pane glass).

Installing a window film can help reduce heat loss in the winter by sealing your windows.

Keeping plants and trees trimmed away from south-facing windows to maximize the amount of sunlight coming through to help heat your home.

During daylight hours in the winter, open all the drapes and blinds on south-facing windows to maximize the heat coming from the sun.

During the night, closing all the window blinds and drapes to reduce heat loss through the windows.

Re-caulking around all windows will help seal your window frames and prevent air leakage.

Replacement Windows - when looking at buying new windows, keep in mind some of the features listed below to maximize their energy saving properties.

Replacing single-pane windows with double-pane or triple-pane windows with low-emissivity (low-e) glass this will help to reduce heat transfer through your windows.

Selecting windows that are gas filled and have low-emissivity (low-e) coatings on the glass will help reduce heat loss.

Installation insulating foam around the window during installation will help prevent air leakage and provide an extra layer of protection from the cold.

When remodeling your home, placing larger insulated windows on the south walls with a heat-absorbing slab, will help keep your home warmer in the winter.

Selection of a replacement window should include the following:

Best thermal performance values (U-Factor)

Lower air infiltration rating
Windows on Washington
has helped thousands of homeowners in the Metro DC area make their home more comfortable, beautiful and energy efficient with
best-in-class replacement windows.
To see how Windows on Washington can make your home improvement dreams a reality, give us a call today. We are happy to schedule a free in-home consultation to provide the answers you need to make the right decision for you home.
Other Articles You May Find Helpful: