Who has Seen the Wind? - The third part to our series on Replacement Window Performance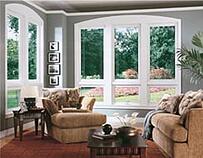 We now need to determine how the windows you are investigating will stand up against the wind. To do this we will look at the R-Value and air infiltration value of windows and determine what you need to look for before you buy.
When looking at the air tightness rating, commonly referred to as the R – value, you want a higher number because this will mean that the window is more insulative compared to its competitor. Windows on Washington often recommends the HiMark product line because it is far and away the most well engineered window brand on today's market. The air tightness ratings on the HiMark 500 and 800 are 15X and 30X more than the required ratings. When you compare these extremely low Air Infiltration ratings of our competitors, the numbers speak for themselves. While it might be easy to discount these numbers as extremely small when talking about all windows, the air infiltration rating on a window speaks volumes about its design and construction.
Windows on Washington's energy auditing background of our company has helped us select windows based on overall efficiency and more importantly, Dynamic efficiency. Dynamic efficiency is the idea of how efficient the window will be once it is installed and operating in a dynamic vs. laboratory environment. The most telling measurement of how good that window will be on the long term is Air Infiltration. We want a window that is super air tight so as to avoid those efficiency loses from air infiltration. The lower the value the better. Air infiltration is second only to radiant losses when it comes to effecting energy efficiency and can sometimes be first depending on how leaky the window is. The air tightness of the windows in the marketplace today is all over the map. Windows on Washington's personal favorites are the two from HiMark (500 and 800 series). They have air infiltration ratings of 0.02 and 0.01 respectively. Compare that to even a well-regarded brand like the Simonton 5500 at an air infiltration rating of 0.14, you can see where one window will be more efficient than the other.
Now that we have determined how to differentiate what makes a window energy efficient we need to look at one more factor in determining replacement window performance. Our final blog in this series will look at warranties, which is a direct reflection on how willing a company is to to stand behind their products and services.