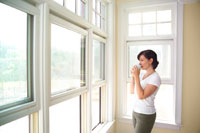 The Weather Outside is Frightful - The second in our four part series on Replacement Window Performance.
Windows on Washington began as an energy auditing company that transitioned into selling and installing energy efficient products to meet the needs of our customers. We pride ourselves on understanding what makes products energy efficient and how our customers can drive the energy efficiency of their homes while staying on budget and getting a good return on their investment. The second part in our series of Replacement Window Performance will tackle how to pick the best-rated window that will keep the heat in during the winter and out during the summer.
When shopping for windows, one of the most important window attributes to consider is the U-Factors of the windows. The U-factor tells you the rate of heat loss of the window. The lower the factor the more resistance to heat flow. A window with the a lower U-Factor will keep the heat in the winter and the heat out in the summer improving the energy efficiency of your home.
Windows on Washington often recommends the HiMark 500 and 800. Both have U-Factors that are a minimum of 10% better than Energy Star Qualification and most, if not all, of their competitors. The HiMarks have U-Factors ranging from 0.15 to 0.26 and are far superior to what is commonly available at 0.30 from other manufactures.
There are two other numerical ratings that companies give windows so that you can compare which windows have a higher energy efficient ratio. These factors are R-value and the air infiltration value. We will investigate these values in Part 3 of the Replacement Window Performance Series.