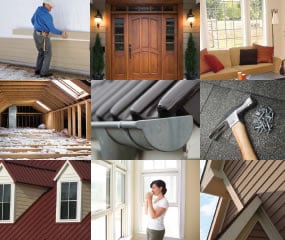 Choosing the right contractor for you Home Improvement Project can be the difference between an amazing experience or a miserable experience. Here are 10 tips to help you choose the right company whether you are replacing your windows, doors, siding, roofing or any other exterior home improvement project.
1) Make sure the business in legitimate - There are several ways to do verify a business, the most common and easiest is to go online to the Better Business Bureau (BBB). Once there you will not only be able to verify it's legitimacy but you will also see if there have been any major complaints about that business. Windows on Washington holds an A -rating with the BBB.
2) Online Reviews - Be sure to read online reviews about companies. You should look at an aggregate of all of the online reviews and not any particular one to get an honest representation of the the company. Look at Angie's List or Customer Lobby for reviews on Windows on Washington.
3) References - Be sure to ask all of the companies you are comparing for references. Windows on Washington can supply you with a list of customers in your area that you will be able to contact directly for honest and independent feedback.
4) Compare Companies - You should always compare multiple companies and products to determine the best match for you and your Home Improvement Project. Windows on Washington is proud of our company and will happily provide you with any information you need to accurately compare our company to any other.
5) Compare Estimates Accurately and Completely - Make sure when you receive multiple estimates that your are comparing apples to apples. Some companies will give estimates for just the window or door and not the installation cost. Make sure all costs are included in your estimate not only to compare estimates accurately but to make sure there are not any surprises and additional costs that a company can add at a later date. Windows on Washington includes all costs of your products and installation in every estimate.
6) Don't fall for Rebate Game - Companies that offer rebates generally have that cost built into the price of the windows, doors, roofing material, etc. Comparing multiple companies "best price" should even the playing field and allow you to make the best choice for you. Windows on Washington offers our customers the best, most competitive price everytime. We want you to compare our pricing and craftmanship to others because we are unmatched by our competition.
7) One time offer - Don't feel pressure to buy tonight. Many companies will offer a discount if you sign the contract the day the sales presentation is made. Unless you know what you want or have seen several presentations don't make a decision that night. Windows on Washington never pressures you for the sale in one day, our estimates are good for 30 days. We know that this is a lifetime purchase for you and your family and you need to make sure it is the right choice.
8) Your spouse needs to present at the sales presentation - We will never ask you to have all decision makers in the family to be present at our sales presentation. We respect our customers and know that they are capable to decide who needs to meet with our sales team and who doesn't.
9) Cooling off period - Make sure that the company offers a cooling off period where you are able to change your mind without losing any money. Windows on Washington offers our customers a 3 day grace period to change their minds about their purchase.
10) Warranty - One of the most important things to consider when choosing a company and their products is the warranty that is offered. At Windows on Washington we offer a lifetime warranty on all of our products and installations. We believe in the products that we sell and we will always be there for you in the rare circumstance that something goes wrong.