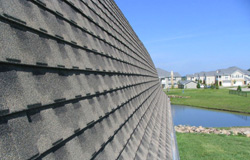 Here's the golden rule: don't make a move without contacting your insurance agent.
If you do have damage, your insurance company will verify it and pay the claim according to your policy. Make sure you understand your responsibility for any deductible, and ask whether the claim could affect your future premiums.
Here's some advice from Allstate Insurance:
1. Take your time in choosing a contractor to repair your home.
2. Get estimates from several licensed, bonded contractors. Don't be intimidated by high pressure sales tactics.
3. Check their credentials with your local Better Business Bureau or Home Builders Association.
4. Inspect contractors' licenses and proof of liability insurance.
5. Get a contract in writing.
6. Consider using a local contractor as opposed to a "storm chaser". Local contractors have a reputation to protect and can easily be contacted should any future work be required.
7. Follow local building codes and inspection procedures.
8. If anyone performs unauthorized work on your house or property and demands payment, consider contacting local authorities.
9. Don't simply sign over an insurance settlement check to the contractor. Ask for a detailed invoice and then remit payment.
10. Immediately report any suspicious behavior to your local police, sheriff's department or your state's Department of Insurance.

If you are in the market for roofing in the Washington DC area, contact us. We at Windows on Washington would love to help you get the right roof at the right price!