At Windows on Washington, we love everything about home improvements. From replacement windows to beautiful new siding, we are all about making your home look, feel and function better. We are especially impartial to home improvements of the creative and spooky variety … that's right – we are talking about Halloween! Every October the team at WoW love decking out our homes with spooky Halloween decor, and we also love offering you ways to turn up the chills and thrills of your own home this October 31st. While we normally offer home improvement advice, this article will be a little bit different as we give you some creative and fun ideas to deck out your home this Halloween.
Choose a Theme
Before you start spook-ifying your home, you should start with deciding on an overarching theme. You can opt for the traditional harvest theme or spooky theme, but you can also choose elegant or playful, subtle or completely over the top (our favorite)! There are plenty of Halloween themes to choose from, so just pick the one you like the most. From harvest to family-friendly, to ultra-frightening, the choice is yours.
The Traditional Harvest Theme
While many people opt for a spooky theme, this is not the only option. If subtle and simple is more your style, we recommend choosing the traditional harvest theme. You can do this by laying a wreath on your front door – either store-bought or homemade! Making it yourself is simple enough – all you need is a dried grapevine wreath, and add some moss. If you do want to make it a little spooky you can add a few black plastic bugs or snakes.
Pumpkins are another traditional harvest theme prop. You can place traditional jack-o'-lanterns on your doorstep or just outside the front of your house. Add a splash of fun to the mix by painting your pumpkins different colors and shapes. Do not forget to carve a face on your pumpkin – you can make it friendly or creepy – the choice is yours.

The Family-Friendly Theme
If you have children or live in an area where there will be a lot of young trick-or-treaters, you might choose a family-friendly Halloween theme. It is not hard to do – it is similar to the traditional theme but with plenty of smiling pumpkins, lots of bright colors and less blood and gore. Instead, think of friendly witches, ghosts and scarecrows.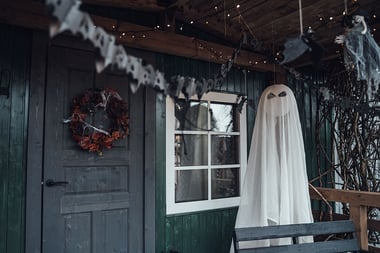 The Scary Theme
The scary and spooky theme is perhaps the most popular Halloween theme, and there are plenty of decorations to choose from, including skeletons, skulls, ghosts, and bats. We love some good spider webbing that hangs from the roof and trails to the ground (add some plastic spiders for extra spook factor). You can also fill your front yard with fake tombstones, or stick fake bones into the dirt to make it look like zombies rising from the dead. If you want to go really all out, you could hire a smoke machine for the night, which will surely make your house the talk of the neighborhood.
If you have trees in your yard, you can tie ghosts that blow in the breeze to frighten trick or treaters as they walk by. Or, you can put some skeletons in rocking chairs or have them seated on stools on your front porch. For something a little bit extra, decorate around them with bones, skulls and cauldrons. If you really want to go all out and create a really spooky feel, you could also hire a smoke machine for the occasion.
Once you have decided on a theme, below we have provided 5 simple ways to bring that theme to life!
1. A Beautiful Wreath
If you have chosen the traditional harvest theme, you should make a beautiful wreath. You can use a Christmas wreath as a basis or create a new one from wires. Even if you have chosen a spooky theme, you can still make a wreath but add monster googly eyes, severed and bloody limbs, ripped out hearts, spiders, and a skeleton head in the middle.
2. Scary Front Door Monster
Want to really scare trick-or-treaters? Create a scary front door monster! This is a great DIY project for the family to do together. All you have to do is use two white plates to create the monster's eyes and some tape for his mouth and hair. If you want to make the monster even scarier, add a fake axe and a touch of ketchup "blood" around his mouth.
3. Spooky Spider Attack
Spiders and Halloween go hand in hand so make sure you run wild with these creepy critters. Using fishing nets or old stockings, arrange "spider webs" around your home and place the plastic spiders in the mix. If you want to take it one step further, place the spiders and webbing at your front door so trick-or-treaters need to touch it to make their way in.
4. Bats and Mice Galore
Another spooky decor idea is adding bats and mice to your front door and around the yard. You can make your own bats and mice shapes from cardboard or buy them from a store. The trick here is to have lots of bats and mice to really give people the creeps. You can use mouse silhouettes on the stairs of your walkway and rubber mice by the front door.
5. Backlit Silhouettes
Backlit silhouettes are one of our favorite ways to decorate when Halloween rolls around. Backlit silhouettes can help you give a mysterious and dark vibe to the entire house and they are extremely easy to make. Use cats, witches hats, broomsticks, spiders, bats, mice – anything goes because the real scare factor is the backlighting. Place these silhouettes on the windows and reduce the lights in the room to a minimum. We can promise it will give your Halloween decor a real WOW factor.