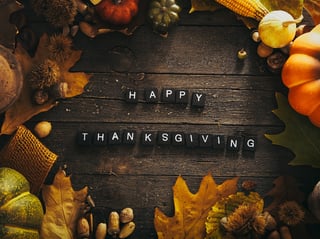 On behalf the Windows on Washington Team, we would like to wish all of our customers a very Happy Thanksgiving!
Today is one of our most cherished national holidays, and an opportunity for us to get together with friends and family, and to pause and reflect on the things for which we can be thankful.
Many WoW staff will be enjoying a delicious home cooked meal, talking and laughing with their families. Like many Americans I'm sure they will also settle in to watch some football.
Of course, there are many things we can be thankful for: our families, health, a well-stuffed turkey and great company. This year however, we would also like to thank you, our loyal customers.
Throughout the year we've had the opportunity to work on diverse home improvement projects all over Virginia and Maryland. We are grateful for the trust you've placed in us to deliver these important projects that improve the look, feel and value of your home. It is a responsibility we take seriously, and we hope our work is helping you enjoy an even better Thanksgiving.
We would also like to thank the many customers who have taken the time to send us testimonials to post on our website, and for their kind words on review sites like Yelp!
We know that time is a precious luxury, so for people to make the effort to offer such positive feedback is always humbling. It is an important validation that we are delivering what we promise, and truly living our commitment to deliver quality workmanship and value for money.
Your positive reviews also help other people find us, and offer a vital insight into how we can bring a customer's home improvement dreams to life. At a time when consumers have more choice than ever before, your positive words make all the difference.
Please enjoy a safe and happy holiday and we look forward to working with you again soon.
And once again, thank you.