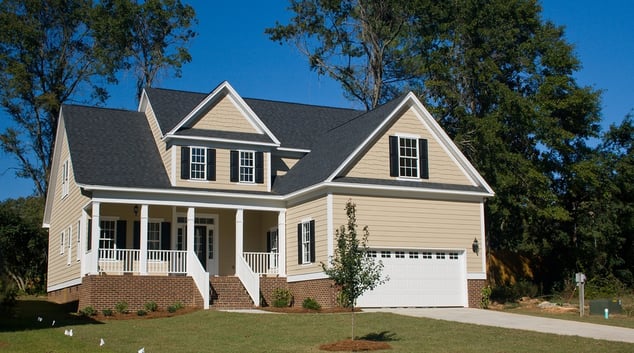 Is your home's exterior looking a bit ragged after years of long, harsh winters? Are you considering whether shelling out your hard-earned money for new siding is a worthwhile investment? What do you stand to gain, besides a boost in curb appeal?
Consider what the experts, the pros in the real estate industry, have to say on the matter, and you will begin to see why investing in new siding means a great deal more than just providing your home with a facelift.
Return on Investment (ROI)
According to the National Association of Realtors, (NAR) homeowners looking for the most bang for their buck in terms of remodeling projects, should put exterior replacement projects, like siding, at the top of their lists.
According to their 2013 Remodeling Cost vs. Value Report, which was summarized on their consumer website, House Logic, you will recoup a high percentage of your investment on almost every exterior remodeling project, including new siding.
For example, you can expect to recoup 83% of an investment in new vinyl siding at resale, according the NAR's 2015 Remodeling Impact Report. Fiber-Cement siding's ROI was equally impressive at 79%.
And according to a report by CNBC, vinyl siding can recoup up to 89% of its initial cost when the time comes to sell your home. To put that in perspective, a $9,000 investment in new vinyl siding will add $8,000 to your home's asking price, which is pretty impressive.
So now we know what real estate professionals have to say on the matter, what about the contractors, the pros that actually install new siding on homes?
A Contractor's Perspective
Contractors know that siding is more than simply a cosmetic upgrade. Good siding protects your home against whatever Mother Nature dishes out, whether it is winter storms, heavy spring rains, or the sometimes severe thunderstorms, tropical storms and even hurricane-force winds of summer and fall.
From a contractor's point of view, siding is also a way to increase your home's energy efficiency and repair structural damage at the same time. Once old siding is removed, you have an opportunity to replace or add insulation and or a house-wrap before new siding goes up, thus increasing energy efficiency (which translates into real dollar savings on energy bills throughout the year).
At the same time, the removal of old siding allows contractors to repair structural damage caused by leaks, dry rot or other factors, from the outside without the hassle, mess and extra expense caused by disturbing your home's interior.
Deciding Between Different Types of Siding
The U.S. Census Bureau tells us that vinyl siding is the most popular siding choice among U.S. homeowners today. There are several reasons for that including its toughness, durability, style versatility, and the fact that it doesn't reveal nicks and scratches because color permeates it through and through.
Modern vinyl siding offers vast improvements over vinyl siding from the 1950s. Modern manufacturing standards ensure that it will maintain its shape and integrity through all kinds of weather. It is also lightweight and can even be retrofitted over existing siding, making it a versatile choice. Modern siding requires minimal maintenance, and many top-quality brands offer transferable warranties, an attractive selling point when your house goes on the market.
Fiber-cement siding is another popular option because of its durability, low-maintenance qualities and its resistance to weather, insect infestations and even fire.
Wood siding is a good option if you like the look of natural materials and you don't mind repainting or re-staining it periodically. Wood siding can easily last a century or more, with proper care and maintenance and is completely biodegradable.
In the end, a quality siding job adds real value, protection and curb appeal, giving you a great return on your investment.