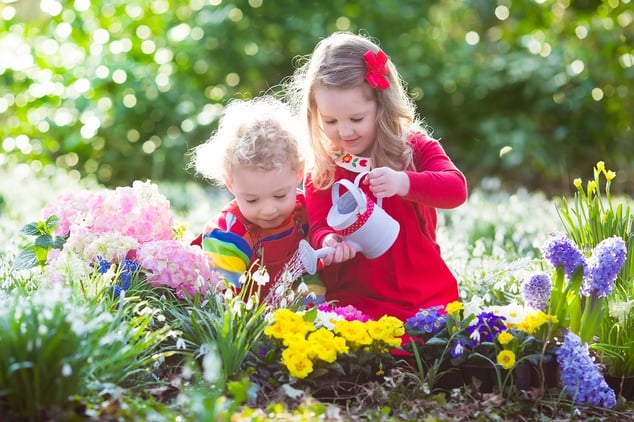 Winter is finally coming to an end and Spring is in the air. Everyone is looking forward to the first daffodils, buds on the trees and the opportunity to spend less time cooped up inside and more time outdoors in the fresh air.
Spring also ushers in the start of home improvement season, which makes this a perfect time to do some jobs around the home to see how it held up during the harsh winter. To give you a head start on the process, here are 5 home improvement projects to get your home in tip-top shape and have it looking beautiful by the time Spring turns to Summer.
1. Start at the Top
As is the case with spring cleaning, it is always a good idea to start at the top, and that means now is a good time to give your roof a thorough inspection to see what (if any) damage it may have sustained over Winter.
Check shingles to make sure none were cracked, buckled or blown loose by winter storms. Next, move on to check flashing around plumbing vents, skylights, and the chimney to ensure everything is still in place and doing its job. If you find any problems, make a note to hire a qualified roofer to fix the damage before the strong summer sun comes along to make things worse.
Your gutters are also an invaluable part of your roofing system, designed to protect your roof from excess moisture, so make sure they are not cracked or broken anywhere, and clean out any debris that has collected in them over the Winter. Now is the time to make repairs if you find minor damages and replace gutters that are too damaged to repair.
Not sure where to start? Read our guide to gutter maintenance
2. Check the Trim and Windows
Using a screwdriver, probe the trim around doors and windows to make sure it is secure and still in good shape. Do not forget to check deck railings and the deck itself to ensure that the railings are secure and none of the deck boards were damaged.
While you are at it, check the windows to see if any have clouded up (meaning the seal between panes has failed). Repair any broken panes and replace windows that are beyond the scope of simple repairs. Clean the outside of all windows, since they likely haven't been cleaned since last fall.
3. Yard Work Time
Clean up any debris and/or leaves that hung on through the fall and fell throughout the winter (a couple of hours sprucing up your post-winter yard will yield instant gratification).
If you burned wood over the winter, and stored your supply near the house, now is a good time to move it away from the foundation since warmer temperatures could make it susceptible to insect infestation. Store it several feet away from the house and at least 18 inches off the ground until next winter.
4. Tune up the Lawnmower and Electric or Gas Hedge Clippers
Getting your power lawn equipment ready before growing season starts will mean it is tuned up and ready to go when you need it. Sharpen lawnmower blades and change spark plugs, if necessary, and make sure your other outdoor power tools are in good shape too (check cords for rodent damage, and make sure they start easily and sound "healthy" and ready for action).
5. Have Your AC Unit Serviced
Warm weather will turn to hot weather before you know it, and you will want your AC unit to be purring when the time comes to switch it on. Schedule an annual service call now to have coils cleaned and filter changed.