Roofing Services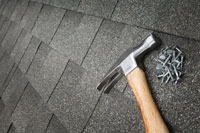 A replacement roof is an investment that improves the look of a home, increases the efficiency and adds value to the property. Selecting the right material is a vital step in the process, and we hope that this summary helps you navigate through the many options.

The experts at Windows on Washington are happy to answer any questions you may have about roofing material. In addition, they can assess the current condition of your roof, provide estimates and advice on the different styles available, and walk through our comprehensive warranty. Give us a call today at 703-378-1190.
Q and A
Q. Are you sure your roof is in good condition?
A. In addition to new roof installation, WoW offers a thorough roof inspection and check-up service. We will identify potential problems and pro-actively address issues before they cause major damage. The flat-fee service includes replacement of missing shingles, pipe collars, and caulking/flashing. If your roof is determined to be beyond repair, the cost of the maintenance service will be credited toward your roof replacement.
Missing shingles or gaps in caulk can cause water damage that is costly to repair. Do not delay – give us a call today!
Q. How do I evaluate the condition of my existing roof?
A. A walk-through inspection is really the only one way to accurately evaluate a roof's condition. We do not recommend this for homeowners because of the potential for injury. Small problems can turn into costly repairs if neglected. A WoW inspection and preventative maintenance will save you bundles in the long run.